INTERVIEW: Tibetans share their uprising stories with the world
Tsewang Dhondup and Lobsang Thupten, both of whom were involved in the 2008 Tibetan uprising, tell the 'Taipei Times' about being shot and fleeing from Chinese authorities. They hid in the mountains for more than a year before escaping to India. Now they are traveling the world to tell their story
For many people around the world, the massive uprising against Chinese rule in Tibet and other areas of China inhabited by Tibetans in March 2008 might have been just another example of Tibetans voicing their resentment toward Chinese rule. However, for Tsewang Dhondup and Lobsang Thupten — two Tibetans from peasant families in the remote mountainous village of Tehor in Sichuan Province's Kardze Tibetan Autonomous Prefecture — it was an event that completely changed their lives.
Born in 1970 and raised in the Chinese-controlled Tibetan autonomous region, Tsewang and Lobsang know all too well that China's propaganda about "improving the lives" of Tibetans and "respecting Tibetan culture and religion" is all lies because of what has happened to their fellow villagers and themselves.
"If the quality of life has really been improved and modernized, why don't we have basic things, such as a decent elementary school in our village?" Tsewang said in an interview with the Taipei Times yesterday.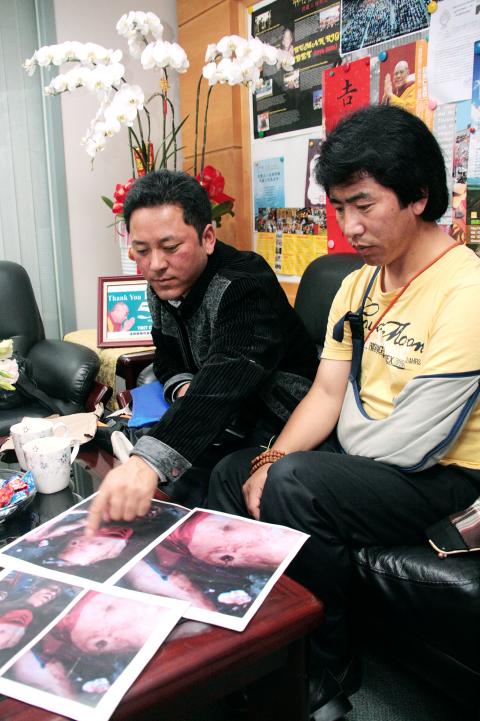 Lobsang Thupten, left, and Tsewang Dhondup display pictures of gunwounds to Konka, a Tibetan monk who took part in an uprising against Chinese rule in 2008, during an interview yesterday.
Photo: Loa Iok-sin, Taipei Times
"From first to fourth grade, we didn't have paper or pencils or even classroom furniture," he said. "We sat on the ground, each of us was given a tree branch and we wrote on the dusty ground. There were four teachers at the school and the one with the best education had graduated from the same elementary school and remained as a teacher because he could not pass the entrance exam for middle school."
Education wasn't something that villagers valued either because they knew that Tibetans did not enjoy the same opportunities as Chinese, even if they had the same education background, Tsewang said.
Since school was mandatory, many Tibetan children from farming villages were forced to go to school.
"Traditionally, many Tibetans were farmers, but when we are in school, we learned nothing, while at the same time we lost our skills to work on the farm because we had to stay in school instead of helping on the farm," he said. "Thus, when we get out of school, we became nothing — we were just wasting time at school."
"It's not that I didn't want to learn — I always wanted to learn more, but I didn't have the chance to," Tsewang added.
Originally, his village was self-sustainable, having always grown potatoes and other crops, "but since the Chinese Communist Party [CCP] took control, they forced us to plant useless things, such as thistles and thorns, to -intentionally make us dependent on the outside," Tsewang said.
Resenting the Chinese government for his whole life, Tsewang finally saw what he thought could be an opportunity to overthrow Chinese rule on March 24, 2008.
Tsewang said he was helping to build an aqueduct for a local monastery along with more than 100 other villagers, when he heard what sounded like chanting and gunshots.
"We knew what happened in Lhasa, so when I heard it, I was quite excited because the uprising was finally happening in our village," he said.
Without anyone giving orders, all the villagers working on the aqueduct dropped their tools and rushed to the scene of protest.
In front of the local police station, Tsewang saw hundreds of people — monks and ordinary villagers — chanting slogans including "We want the Dalai Lama back" and "Tibet must be free."
Police officers tried to arrest the protesters, Tsewang recounted, but whenever a protestor was taken by the police, others would rush and clash with the police and try to free the protester.
Then gunfire erupted from the police station and many people were wounded, including a monk named Konka.
"I saw that Konka was shot. He tried to get up, but then fell to the ground right away and yelled very loudly: 'I was shot,'" Tsewang recounted. "I was very saddened by the scene, as we Tibetans respect monks a lot."
Saying prayers in his mind, Tsewang ran to Konka despite the gunfire and miraculously arrived at the monk's side safely.
"I helped him up with Rinzin Karma, a monk from a local monastery, but as soon as I held Konka up, I could feel immediately that I was shot in the waist, but I didn't say anything. I kept on trying to get Konka out of there, but then, a few seconds later, I was shot again in the arm," he said.
Seriously bleeding after the shot in the arm, Tsewang said he knew he couldn't hold on anymore, so he shouted for help before he passed out.
It was at this point that Lobsang and four other people from his village — who Tsewang knew, but was not close friends with — came to help him.
Tsewang's new friends immediately took him to another village nearby on motorcycle and from there they carried him up to hide in the nearby mountains on a self-made stretcher using branches and a piece of cloth.
"I couldn't go to the hospital because I was on the wanted list and the local police would give a 150,000 to 200,000 yuan [US$22,800 to US$30,000] cash reward to anyone who could give them information on my whereabouts," Tsewang said.
However, none of his friends betrayed him.
They hid him in the mountains, took turns staying with him and brought him food.
He could not sit or stand because of the wound to his waist and without proper care, the wounds festered and even became rotten with worms.
Without any medical equipment, his friends could only scrape away the rotten part of the wounds with razors, drain the puss by sticking small pipes into the wounds and disinfect them with liquor.
"For the first six months, I could not move at all and I had to lie there all day long. We couldn't cook either, since the smoke might have attracted attention, so my friends always tried to keep the food warm when they brought it to me, but they all ate cold stuff," he said. "At one point, I thought about committing suicide, but my friends told me that I had to live on to tell the world what the Chinese did to Tibetans," Tsewang added. "They also kept all sharp items out of my reach."
His friends' words might have reignited Tsewang's will to live on, since once he became determined to tell his story to the world, he began to recover.
It was after one year and two months of hiding in the mountains that he felt well enough to escape to India.
"One day, when it was Lobsang's turn to look after me, I told him I wanted to go to India and I asked if he would go with me," Tsewang said. "He agreed right away without any hesitation."
Lobsang drove Tsewang to Lhasa on his motorcycle — a trip that took them 10 days and 10 nights since they had to avoid checkpoints along the way.
From Lhasa, they found a guide to take them to India and reached Dharamsala, the seat of the Tibetan government-in-exile, in May 2009.
Lobsang did not tell his family, leaving behind his mother, who is in her sixties, his two young kids, ages six and eight, as well as his pregnant wife.
Tsewang too, has a wife and four kids — including one who was not born yet when he fled.
"My family should understand it," Tsewang said. "I didn't escape to find my own better life. I did so because I wanted to tell the world what's happening to Tibetans."
Lobsang, on the other hand, said "the pain of having to leave my family is nothing compared to the suffering of the Tibetan nation."
Both will attend a candlelight vigil at Liberty Square in Taipei tonight at 7pm that was initially meant to remember those who died in the 2008 uprising, but has been subsequently changed to pray for the victims of Japan's devastating earthquake and tsunami.
Comments will be moderated. Keep comments relevant to the article. Remarks containing abusive and obscene language, personal attacks of any kind or promotion will be removed and the user banned. Final decision will be at the discretion of the Taipei Times.