Former soldiers demand amends
TIME AFTER TIME: A DPP legislator said that the government had violated the Military Service Act by unilaterally extending the soldiers' service by a year
More than 10,000 former Army 1st Special Forces personnel took to the streets yesterday asking the government to compensate them for extending their military term by one year to three years.
More than 560,000 personnel had their military service extended by one year to three years between 1967 and 1986, and they were all recruited as part of the former Army 1st Special Forces.
The servicemen's situation became a hot issue after Democratic Progressive Party (DPP) Legislator Chai Trong-rong (蔡同榮) introduced a draft bill in the legislature calling for them to receive compensation for their extra year of service.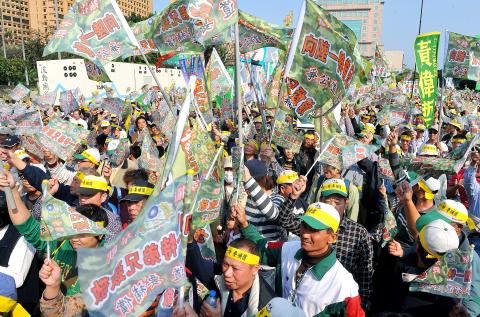 Former Army 1st Special Forces personnel from around Taiwan demonstrate on Ketagalan Boulevard in Taipei yesterday to demand that they be compensated for having their military service extended by one year to three years between 1967 and 1986.
Photo: Chien Jung-fong, Taipei Times
More than 10,000 of those servicemen from around the nation joined a rally yesterday afternoon on Ketagalan Boulevard in front of the Presidential Office, chanting: "Army 1st Special Forces want compensation; Army 1st Special Forces want justice."
Chai and 10 representatives from the group delivered a statement of complaint to the Presidential Office.
Chai told the rally that compensation for those former troopers would be an expression of transitional justice.
"Changing the number of years soldiers must serve requires an amendment to the Military Service Act (兵役法), but the government violated the act by forcing the soldiers to serve the extra years by administrative decree," Chai said.
He said the military has estimated that if all of the servicemen were given monetary compensation, it would cost the national coffers NT$190 billion (US$6.46 billion) and it would create a huge dent in the government's finances, but he added this is just a government excuse.
"If the government refuses to compensate those servicemen, we will surely return to the streets soon," he added.
DPP Legislator Lin Shu-fen (林淑芬) said that between 1967 and 1968, then-dictator Chiang Kai-shek (蔣介石) thought he and his Chinese Nationalist Party (KMT) regime had a chance to recover China, so he ordered some soldiers to serve extra years without any legal basis.
Commenting previously on the issue, Minister of National Defense Kao Hua-chu (高華柱) said that 567,407 men were recruited and served their time during that "unique period of the country's history," while Premier Wu Den-yih (吳敦義) has said that the nation's population of 13 million at that time needed an armed force of 600,000 to protect them and that "the Ministry of National Defense did its recruiting on the basis of the law to ensure Taiwan's security and prosperity."
Comments will be moderated. Keep comments relevant to the article. Remarks containing abusive and obscene language, personal attacks of any kind or promotion will be removed and the user banned. Final decision will be at the discretion of the Taipei Times.