Health Minister reveals 107 flu-related fatalities
DEADLY MISTAKES: The health department said that most people who died from flu-related illnesses had not been vaccinated against seasonal flu viruses
Since the beginning of the flu season in July last year, 107 people in Taiwan have died from flu-related illnesses, Department of Health Minister Chiu Wen-ta (邱文達) told the legislature's Social Welfare and Environmental Hygiene Committee yesterday.
Health officials said the number of people affected with seasonal influenza was expected to drop this month and next as temperatures climb.
Of those who died from the flu, more than 70 were infected with A(H1N1), commonly known as swine flu, the department said.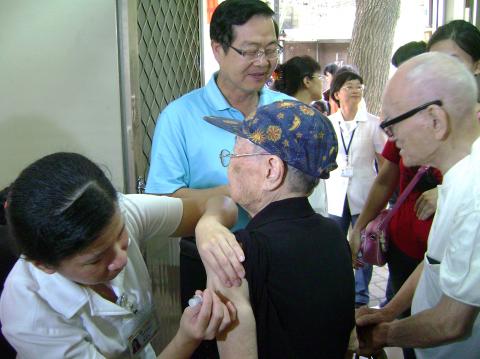 Residents in Nantou County receive flu vaccine shots at a public clinic yesterday.
Photo: Chen Feng-li, Taipei Times
People above the age of 65 had the highest fatality rate from the flu, health officials said.
The department said people in the high-risk group, such as young children and the elderly, as well as people with chronic diseases, were more prone to develop complications and severe symptoms from the flu. People who fall into these categories are strongly advised to receive flu shots if they have not already done so.
"I recently surveyed hospitals in various parts of the country and found that numbers of emergency visits to the hospital [from flu-like symptoms] have dropped," Chiu said.
However, the health minister said he would still instruct local health authorities to remain alert and avoid being complacent about flu conditions.
The department said a majority of those who died from flu had not been vaccinated against seasonal flu viruses, adding that receiving flu shots was the most effective measure against the disease.
The Centers for Disease Control said that according to the WHO, the next flu season is expected to be dominated by the A(H1N1) virus and other strains similar to those from this season.
Although people who have already been infected develop immunity within two to three weeks, they are nevertheless advised to rest and drink plenty of water to help rebuild their immune system.
Comments will be moderated. Keep comments relevant to the article. Remarks containing abusive and obscene language, personal attacks of any kind or promotion will be removed and the user banned. Final decision will be at the discretion of the Taipei Times.