Dog owners told to keep pets from attacking
A Council of Agriculture official yesterday warned dog owners to monitor their pets after about 2,500 cases of postal workers being injured while delivering mail were reported in the past three years.
Under the Animal Protection Act (動物保護法), authorities can confiscate animals that have attacked and injured people if the owners have ignored repeated warnings to prevent such incidents, council official Lin Tsung-yih (林宗毅) told a press conference organized by Chinese Nationalist Party (KMT) Legislator Lu Shiow-yen (盧秀燕).
"We hope people would sympathize with postal workers and look after their dogs so workers can do their job without fear of attack," Lu said.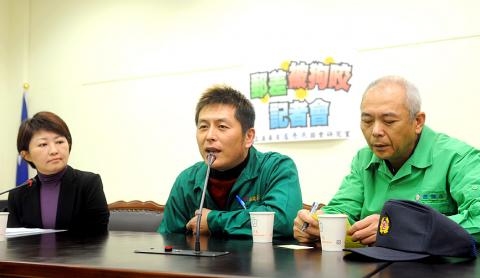 Postmen yesterday tell a press conference in Taipei organized by Chinese Nationalist Party (KMT) Legislator Lu Shiow-yen, left, about being attacked by dogs as they made their rounds.
Photo: Wang Min-wei, Taipei Times
About 2,000 employees of state-owned Chunghwa Post Co, or about one-fourth of its workforce, have been the victims of dog attacks while delivering mail in the past three years.
Some of the victims were at the press conference to tell of their experiences.
"I have been on the job for 30 years. Wind or rain do not scare me, but I am scared of being attacked by a dog," postman Lin Tan-tao (林坦濤) said, adding strays didn't frighten him as much as well-kept dogs.
Lin said owners would sometime scold him when he tried to defend himself.
Sheng Ying-chieh (沈英傑) said a dog owner once filed a complaint against him and demanded he apologize after he hit the ground with a pipe to scare a dog away.
Although Article 6 of the act stipulates that no one shall disturb, mistreat or harm animals either intentionally or without justification, postal workers are exempt if they have cause to defend themselves against dog attacks while on duty, Lin Tsung-yih said.
Even so, he urged postal workers to try and shoo menacing dogs away instead of taking action that could hurt the animals.
Chunghwa Post should also teach its employees about dog behavior to help reduce the risk of attack, he said.
Comments will be moderated. Keep comments relevant to the article. Remarks containing abusive and obscene language, personal attacks of any kind or promotion will be removed and the user banned. Final decision will be at the discretion of the Taipei Times.