Politicians look forward to battles to come
With the November special municipality elections still fresh in the collective memory, politicians in Greater Kaohsiung and Greater Tainan are already looking forward to two legislative by-elections next month.
Balloting is set for March 5 in the fourth districts of the two municipalities, vacated after William Lai (賴清德) was elected Greater Tainan mayor and Chen Chi-yu (陳啟昱) appointed deputy mayor of Greater Kaohsiung.
The Democratic Progressive Party (DPP) has nominated former Tainan City mayor Hsu Tain-tsair (許添財) for the Greater Tainan seat. Hsu lost to Lai in the hotly contested primaries last year.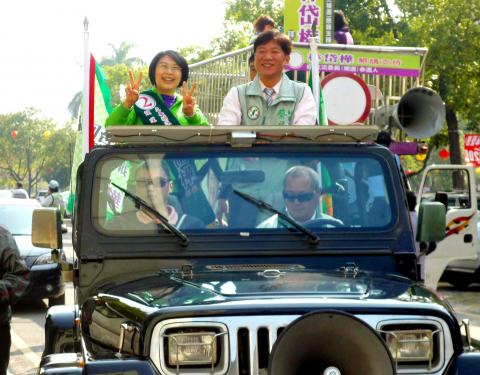 Democratic Progressive Party Greater Kaohsiung legislative by-election candidate Lin Tai-hua, standing left, is joined by Greater Kaohsiung City Council Deputy Speaker Tsai Chang-ta, standing right, in a motorcade yesterday.
Photo: CNA
Signaling a reluctance to battle the popular two-term mayor, the Chinese Nationalist Party's (KMT) Mongolian and Tibetan Affairs Commission Minister Kao Su-po (高思博) and National Youth Commission Minister Wang Yu-ting (王昱婷) refused a party request to run for the seat.
Both ministers later resigned from the Cabinet.
Instead, the KMT will be represented by KMT Legislator-at-large Chen Shu-huei (陳淑慧), who said that her campaign would focus on protecting labor rights and called herself a force to balance out the DPP's in the south.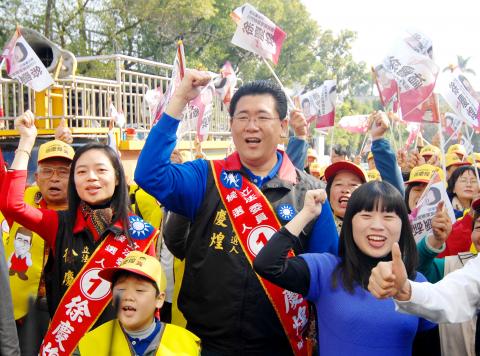 Supporters cheer after Chinese Nationalist Party (KMT) Greater Kaohsiung legislative by-election candidate Hsu Ching-huang, center, drew a lot to be No. 1 on the candidate list in the city yesterday.
Photo: Huang Chih-yuan, Taipei Times
Independent Chen Yuan-chi (陳源奇) has also signaled an intention to run.
However, observers have devoted more attention to the Greater Kaohsiung by-elections, where the race is believed to be more open.
President Ma Ying-jeou (馬英九), Premier Wu Den-yih (吳敦義) and DPP Chairperson Tsai Ing-wen (蔡英文) have visited Greater Kaohsiung in the past week to drum up support for their two candidates.
Former legislator Lin Tai-hua (林岱樺), who served briefly as minister of the National Youth Commission in 2008, will represent the DPP, while the KMT has nominated Hsu Ching-huang (徐慶煌), the son of former three-term DPP legislator Hsu Chih-ming (徐志明).
Lin yesterday called her campaign "the first step to winning back Taiwan," and said voters should support both her and Hsu Tain-tsair.
Meanwhile, Hsu Ching-huang, a former DPP member, emphasized his local roots, saying he believed he would be elected if all the "folks are united together."
A win, he said, would represent a victory for "local people and grassroots supporters."
Neither of the two candidates is expected to rest over the Lunar New Year. Instead, the two parties say they plan to hold separate campaign events on Saturday, with appearances by Ma and Tsai.
Comments will be moderated. Keep comments relevant to the article. Remarks containing abusive and obscene language, personal attacks of any kind or promotion will be removed and the user banned. Final decision will be at the discretion of the Taipei Times.