Kenting Park insect survey identifies hundreds of species
CREEPY CRAWLIES: If you go out in the Kenting woods today, you're sure of a big surprise, especially since over 1,000 insects found there are unidentified
Experts have identified 394 insects inside Kenting National Park in southern Taiwan, 11 of which are species never seen in the world before and another 35 of which were discovered in Taiwan for the first time.
Another 1,200 types of insects were found, but have yet to be identified or named, according to the results of a survey of insects in the park released by Kenting National Park on Monday.
Of the 394 newly identified bugs, 127 are true bugs (known as stinkbugs) belong to the insect order of Heteroptera.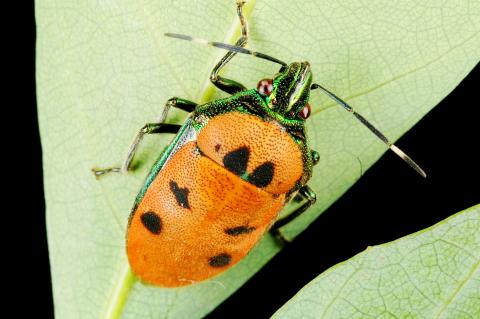 A newly discovered insect belonging to the scutelleridae, or shield-backed, family of the Hemiptera order, clings to a leaf in this undated photo provided by the Kenting National Park Headquarters.
Photo: CNA, courtesy of the Kenting National Park Headquarters
Park officials said one pleasant surprise was the discovery of a stinkbug in the scutelleridae family, which looks like a beetle, but is more colorful.
Five species of plant-eating scutelleridae were found, with one of them a newly recorded species, meaning it was found in Taiwan for the first time.
The results also showed that carnivorous assassin bugs in the reduviidae family frequent the area and account for 58.3 percent of the new and newly recorded species in the survey last year.
Of the assassin bugs, the new species was the bagauda zigzag, which was found only in the tropical forests of the rising coral -tablelands in the park.
The park administration said the latest findings show that much of the park's insect population is similar to the combined population of the Malay Peninsula and Malay Archipelago, an indication of the unique environment of the Hengchun Peninsula, where the national park is located.
Comments will be moderated. Keep comments relevant to the article. Remarks containing abusive and obscene language, personal attacks of any kind or promotion will be removed and the user banned. Final decision will be at the discretion of the Taipei Times.