Taipei's public housing project opening next year
Taipei City's first public rental housing project will be open to young residents in January next year, offering 110 units in the 11-story building near the Yuanshan MRT Station with a monthly rent of about NT$15,000 per unit.
The apartment complex, located on Chengde Road and a five-minute walk from the MRT station, comprise 80 large units measuring about 24 ping (79.3m2) and 30 smaller units measuring about 12 ping (39.6m2). The monthly rent for each unit will be about 80 percent of the average rent in the area.
Taipei residents under the age of 40, recently married couples who qualify for the city's childbirth subsidy program introduced this year and low-income families will have priority in renting these units, the city's Department of Urban Development said.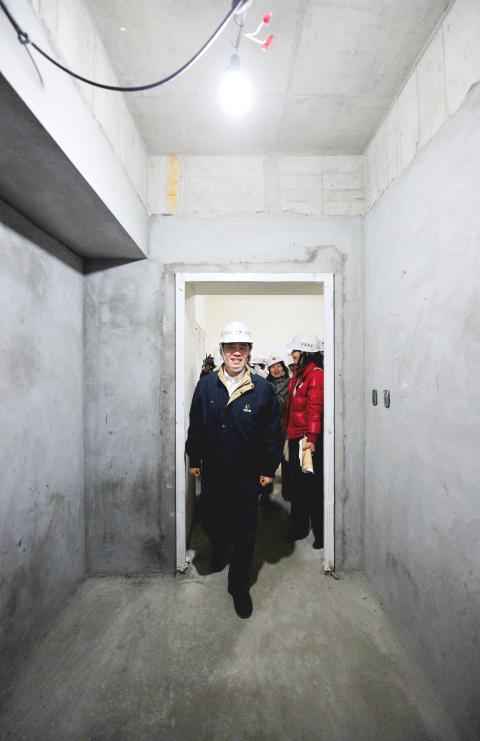 Taipei Mayor Hau Lung-bin inspects construction on a public rental housing complex in Taipei's Datong District yesterday.
Photo: CNA
On an inspection tour of the construction site yesterday, Taipei Mayor Hau Lung-bin (郝龍斌) dismissed concerns about the negative impact of the housing project on the overall environment and the housing market in the area.
"This housing project is aimed at providing affordable and high-quality housing units for the city's younger generation, and I believe that group [of people] will bring energy and a positive image to the neighborhood," he said.
Hau said the city government would soon publish the criteria for selecting applicants, adding that those selected would be allowed to live there for only up to four years as the units are mainly designed to serve as temporary housing.
The units will be the first completed housing project under the Hau administration's plan to increase the number of affordable housing units throughout the city to 50,000 over the next four years to address skyrocketing real estate prices.
The city government has also selected an abandoned supermarket in Wenshan District (文山) to build a 90-unit public rental apartment complex. The city intends to rent out 181 public housing units this year that are located near new MRT stations, including Xingtian Temple Station, Xianse Temple Station and Sindian Station. As with the Yuanshan project, rent will be about 80 percent of the average rent.
Comments will be moderated. Keep comments relevant to the article. Remarks containing abusive and obscene language, personal attacks of any kind or promotion will be removed and the user banned. Final decision will be at the discretion of the Taipei Times.