Government 'buying off' bloggers for Kuokuang: GPT
The Green Party Taiwan (GPT) yesterday accused the Ministry of Economic Affairs' Industrial Development Bureau of "buying off" bloggers to publish blog entries on the petrochemical industry and questioned if it was part of a campaign to raise public support for a highly controversial plan to build a massive petrochemical plant.
"This government is completely malfunctioning. It not only buys commercial media outlets, now it's buying independent bloggers," GPT convener Pan Han-shen (潘翰聲) said.
Pan told the Taipei Times by telephone that the Industrial Development Bureau (IDB) had invited 20 bloggers on a trip to visit a petrochemical plant in Kaohsiung and an electronic appliance plant nearby.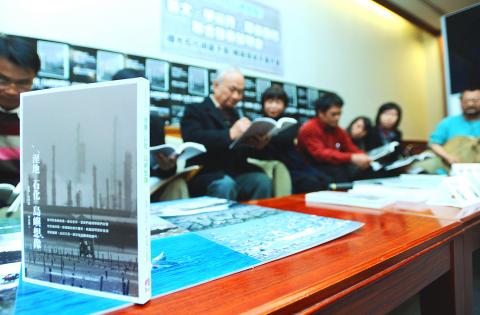 People browse through a new book about Taiwan's wetland protection and the petrochemical industry at a book launch at the Legislative Yuan in Taipei yesterday. The book was edited by writer Wu Sheng.
PHOTO: WANG YI-SUNG, TAIPEI TIMES
"The trip was totally free for participants. They received free meals and a NT$5,000 cash award," Pan said.
"The NT$5,000 for each participating blogger alone costs NT$100,000 of taxpayers' money and this doesn't include the cost of hiring a marketing firm to arrange the trip and other costs of the trip," Pan said.
"Both President Ma Ying-jeou (馬英九) and Premier Wu Den-yih (吳敦義) have talked about ending government placement marketing, but what they are doing is far from what they said," Pan added.
A Web page announcing the event with details and links to related blog posts confirmed Pan's comments.
The event Web page said participating bloggers were required to publish at least one blog post of 1,500 words or more and five pictures describing the trip -before Friday to qualify.
In their blog post, bloggers were asked to "write down your expectations of the Kuokuang petrochemical plant" as well as "comments and feelings" about the trip.
Kuokuang Petrochemical Co wants to construct a massive petrochemical plant along the coast in Changhua County.
The plan has met with strong opposition from environmental groups as well as local residents who worry about the pollution and the impact such a project could have on the ecologically sensitive Changhua coast.
GPT Secretary-General Chang Hung-lin (張宏林) said studies by academics and previous experience had proven that the highly polluting petrochemical industry is not suitable for Taiwan.
"Despite this knowledge, the government still insists on -defending the Kuokuang project without any regard for the health of the public," Chang said.
"Now the government is even trying to get its hands on bloggers to speak for the petrochemical industry," Chang added.
"The government should apologize to the public," Chang said.
At press time, IDB Director--General Woody Duh (杜紫軍) had not returned requests for comment by the Taipei Times.
Separately, Premier Wu Den-yih (吳敦義) said he did not see any problems with the practice of encouraging bloggers to write on a subject through subsidies, as long as the blogs were not used as embedded marketing.
"This is not unlike the tours [of military facilities] organized by the Ministry of National Defense for reporters covering national defense," Wu said.
ADDITIONAL REPORTING BY BY SHIH HSIU-CHUAN
Comments will be moderated. Keep comments relevant to the article. Remarks containing abusive and obscene language, personal attacks of any kind or promotion will be removed and the user banned. Final decision will be at the discretion of the Taipei Times.