Eating, killing of dogs protested
ANIMAL BRUTALITY: A group of five people were let off after allegedly killing and eating two dogs after stringing them from a tree and cutting them up live
Hundreds of people mobilized by the Life Caring and Animal Rescue Organization Taiwan (LCO) gathered in front of the Presidential Office yesterday to protest a prosecutor's decision to not indict five people who killed and ate two dogs last month, and urged the government to come up with more animal-friendly policies.
In May last year, the LCO filed an animal torture lawsuit against five people in New Taipei City's (新北市) Yingge District (鶯歌). The five people allegedly hanged two dogs on a tree alive and cut their throats, legs and ears.
After killing the dogs, the five people cooked and ate them, the LCO said.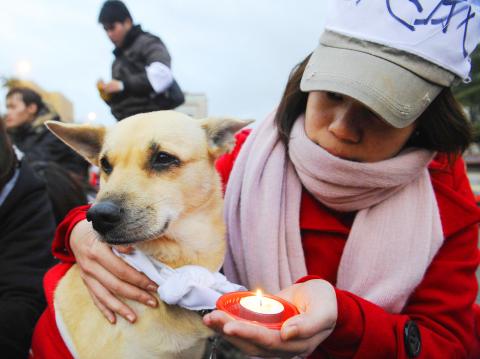 A woman hugging her dog holds up a candle as animal rights groups gathered for a sit-in protest on Ketagalan Boulevard in front of the Presidential Office in Taipei City yesterday to call on the government to amend legislation in order to better protect animals.
PHOTO: GEORGE TSORNG, TAIPEI TIMES
One of the five alleged dog killers told the prosecutor that the dogs were actually his pets, and he invited four friends to kill and cook them with him because he was moving and pets would not be allowed in his new place.
Although the five violated the Animal Protection Act (動物保護法), the Banciao Prosecutors' Office decided not to bring charges against them last month, saying the five did not torture the dogs, but only killed them for food, and that it was the first time they had done so.
"They cut the dogs alive — if this is not torture, then what is it?" LCO spokeswoman Juan Mei-ling (阮美玲) asked. "The decision [to drop charges against them] is encouraging people to kill and eat their own dogs."
In addition to protesting the prosecutor's decision, the LCO also made five other demands of the government, including calling for the formation of an animal protection police force, banning the sale of animal traps, amending the Animal Protection Act to provide more severe penalties to animal abusers, giving priority right-of-way to animal ambulances and closing down illegal breeding grounds.
Hundreds of people showed up in support of the group's calls, while Buddhist monks held rituals to pray for the wellbeing of the animals.
"I came because I support their [LCO's] demands," said a woman who was among the demonstrators with her two elementary-age children. "We need to learn to respect all lives — no matter whether it's a human life or an animal. I brought my kids here because I wanted them to learn."
The event started in the morning and continued until 8pm. At sunset, participants lit candles and placed them in the shape of the letters SOS, symbolizing their call to the government to better protect animals.
Comments will be moderated. Keep comments relevant to the article. Remarks containing abusive and obscene language, personal attacks of any kind or promotion will be removed and the user banned. Final decision will be at the discretion of the Taipei Times.