DPP wins spot as Caotun Township chief by 19 votes
The Democratic Progressive Party (DPP) yesterday scored a narrow victory in the by-election for Caotun Township (草屯) chief in Nantou County by a razor-thin margin of 19 votes.
According to tally released by the Nantou County Election Committee last night, DPP candidate Hung Kuo-hao (洪國浩) garnered a total of 15,809 votes, while Chinese Nationalist Party (KMT) candidate Chien Ching-hsien (簡景賢) received 15,790 votes.
Lee Ho-chi (李合吉), a candidate nominated by the Dadao Compassion Jishih Party (大道慈悲濟世黨), received 133 votes, while independent candidate Lai Chung-cheng (賴忠政) received 2,834 votes.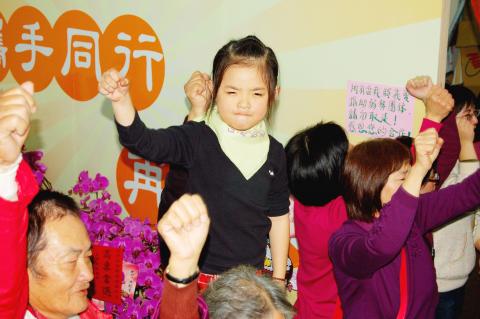 A girl raises her fist in the air at a party to celebrate yesterday's victory of Democratic Progressive Party candidate Hung Kuo-hao in the township chief by-election for Nantou County's Caotun Township, the hometown of Premier Wu Den-yih.
Photo: Chen Hsin-jen, Taipei Times
Caotun Township is the hometown of Premier Wu Den-yih (吳敦義), who several times in the past weeks traveled to the township to stump for the KMT's candidate.
Prior to the by-election yesterday, DPP Chairperson Tsai Ing-wen (蔡英文) had also thrown her weight behind the DPP's candidate.
Commenting on the result, DPP spokesperson Cheng Wen-tsang (鄭文燦) said the electoral outcome suggested that the grassroot support for the DPP was continuing to grow.
The party will be more humble and united as it works to win over more people's trust, Cheng said.
Meanwhile, KMT spokesperson Su Jun-pin (蘇俊賓) said the party respected the election results.
Howerver, Su added that the KMT would also respect Chien's wish if he wants to seek legal action to remedy any suspected flaws during the election process.
ADDITIONAL REPORTING BY MO YAN-CHIH
Comments will be moderated. Keep comments relevant to the article. Remarks containing abusive and obscene language, personal attacks of any kind or promotion will be removed and the user banned. Final decision will be at the discretion of the Taipei Times.