CEPD attempts to boost birthrate
BABY BOOST: In 2009, 191,310 babies were born in Taiwan, down 3.74 percent from the previous year, with an all-time low of less than 20,000 in Taipei CIty
The government is planning to offer more than US$ 1 billion a year in a fresh bid to boost the nation's dwindling birth rate, one of the world's lowest.
According to local media reports, the Council for Economic Planning and Development (CEPD) is proposing an annual budget of NT$38 billion (US$1.3 billion ) for birth incentives and child-care support from next year.
Under the plan, parents will be entitled to a minimum monthly subsidy of NT3,000 for each newborn up until the age of two and an annual schooling stipend of NT30,000 for children aged two to six.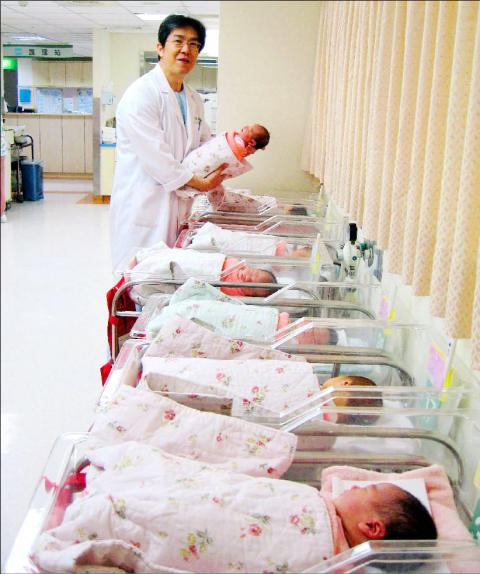 Hsu Fu-de holds a newborn baby as other babies lie sleeping in the obstetrics and -gynecology department of St Paul's Hospital in Taoyuan yesterday.
Photo: Li Jung-ping, Taipei Times
The government hopes to encourage the public to have more children during the Year of the Dragon in 2012, which is considered the most auspicious year in the Chinese zodiac and a favorite birth sign for children, local media reported.
Government data showed that fewer babies have been born over the last year, the Year of the Tiger, as some parents have been anxious to avoid having children under one of the fiercest signs in Chinese astrology.
Taiwan's authorities have been offering various incentives to try to boost birth rates, amid growing concerns that a severe manpower shortage will trigger serious social and economic problems.
The average number of children Taiwanese women have fell to 1.03 in 2009. In general, every woman needs to give birth to 2.1 children on average, merely to prevent the population from shrinking.
Taipei, where birth rates dived to an all-time low in 2009 with fewer than 20,000 babies born, started paying couples NT20,000 for every newborn from Jan. 1.
In 2009, 191,310 babies were born in Taiwan, down 3.74 percent from the previous year.
Council officials declined to comment on the report.
Comments will be moderated. Keep comments relevant to the article. Remarks containing abusive and obscene language, personal attacks of any kind or promotion will be removed and the user banned. Final decision will be at the discretion of the Taipei Times.