Ma hopeful for improved Taiwan-EU trade relations
President Ma Ying-jeou (馬英九) yesterday told a delegation of British lawmakers he hoped Taiwan would sign trade enhancement measures (TEM) or other forms of economic cooperation arrangements with European countries.
Ma said it would be desirable for trade relations between Taiwan and the EU to continue to grow and "if possible, we hope to explore the possibility of signing TEMs or other economic cooperation arrangements" so both sides can enhance economic and trade ties through an institutionalized mechanism.
Taiwan is a small country, with 23 million people living on a 36,000km2 landmass, but it has many unique features that can be brought fully into play, Ma told the delegation at the Presidential Office.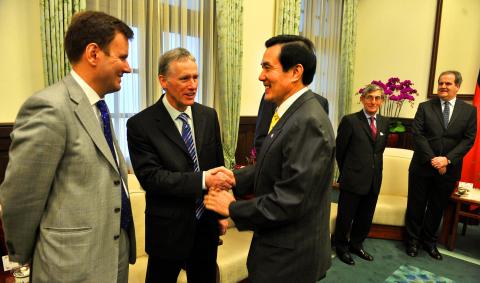 President Ma Ying-jeou greets Lord Grantchester and other British lawmakers at his office in Taipei yesterday. Ma said he wants Taiwan to enhance its trade and economic cooperation with the UK and other European countries.
PHOTO: CNA
Ma said he hoped Taiwan could be a peacemaker, provider of humanitarian assistance, promoter of cultural exchanges and creator of new technology and business opportunities.
On the role of peacemaker, Ma said that since he came into office two-and-a-half years ago, his administration has committed itself to promoting peace and reconciliation across the Taiwan Strait. While cross-strait military tensions remain, Taipei and Beijing have signed 15 agreements under his watch.
Among the achievements were the Economic Cooperation Framework Agreement (ECFA) and 370 weekly direct cross-strait flights, Ma said, adding that such "vibrant exchanges" were unprecedented in the past 60 years.
Ma said tensions across the Taiwan Strait had been mitigated and he would continue to seek to maintain what he called the "status quo" during his presidency.
By contrast, the Korean Peninsula — another flashpoint in East Asia — still has its old problems to deal with, Ma said.
"We are so glad that the days of military confrontation across the Taiwan Strait are over," he said.
Ma thanked the UK for taking the lead in offering Taiwanese visa-free entry in March 2008. Following the gesture by what he called "the big brother," Ma said Ireland, New Zealand and Canada had followed suit. The EU also granted Taiwanese visa-waiver privileges last month, which are set to come into effect next Tuesday, he said.
This saved not only time but also money for applicants, Ma said, but the most important thing was the relationship between Taipei and London had improved.
"Many media outlets have said that it was a vote of confidence in our country," he said.
Comments will be moderated. Keep comments relevant to the article. Remarks containing abusive and obscene language, personal attacks of any kind or promotion will be removed and the user banned. Final decision will be at the discretion of the Taipei Times.