ANALYSIS: Central American allies increase ties with China
EYES WIDE SHUT Countries on the isthmus don't want to be left behind, and the ability to trade with the world's No. 2 economy increasingly seems too lucrative to pass up
Closer ties between Taiwan and China are allowing Central American countries to deepen economic links with the communist giant, increasing Chinese influence in a region dominated by the US.
Central American businesses say the isthmus has been held back by its long support of Taiwan, denying the banana and textile exporting countries free access to the world's No. 2 economy.
The region has been torn between Taiwan's generous aid and the promise of doing business with Beijing, enviously looking on while bigger economies like Brazil, Chile and Peru steadily increase their shipments of raw materials to China.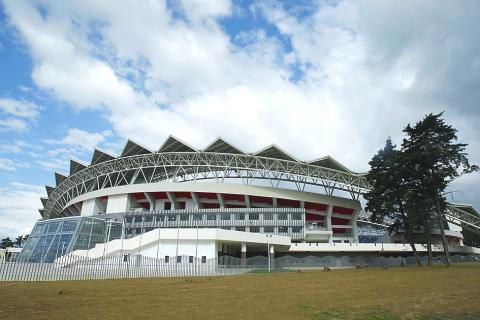 The new Costa Rican national stadium in San Jose is pictured on Thursday. Beijing bought US$300 million of Costa Rican government bonds and is building this gleaming new 35,000-seat stadium to sugarcoat its new alliance with Costa Rica.
PHOTO: REUTERS
Costa Rica made the surprise move of breaking off its decades-long relationship with Taiwan in 2007, now only recognized by a handful of small countries.
El Salvador, Honduras, Nicaragua, Panama and Guatemala say they have no immediate plans to abandon Taiwan, but are worried they will be left behind after Costa Rica agreed to a free trade deal with China in April that lawmakers aim to ratify this year.
China has traditionally shunned business with Taiwan's allies, but in June Taiwan and China signed the Economic Cooperation Framework Agreement (ECFA), binding their economies closer together and opening the door for similar pacts with other countries.
"It is not in Beijing's interest anymore to close off completely Taiwan's diplomatic ties … it is willing to allow the government of Taipei to maintain some dignity," by holding onto recognition from countries in Central America, said Eugenio Anguiano, a China specialist at the Mexican think tank CIDE.
Central America, a generally poor region regularly hit by -hurricanes and floods, is taking advantage of the thawing tensions by expanding commerce with China where it can.
Honduran President Porfirio Lobo signed a US$1.2 million contract in September with Chinese firm Sinohydro Corp to help build three hydroelectric dams in western Honduras to generate 524 megawatts of power.
"We have an excellent relationship with Taiwan ... but we cannot close our eyes to reality," Honduran Industrial Association chief Adolfo Facusse said. "The world has changed and it's in our interest to have more direct relations with China."
El Salvador and Nicaragua hosted trade fairs this year promoting Chinese-made food, cars, machinery, high technology and medical equipment, as cheaper imports from China can cut costs for companies. Nicaragua imported US$260 million of Chinese goods last year, mostly shuttled through intermediary countries like Mexico and the US.
To sugarcoat China's new alliance with Costa Rica, Beijing bought US$300 million of Costa Rican government bonds and is building a gleaming new 35,000-seat stadium in San Jose.
China is already the second-biggest user of the Panama Canal, with about 20 percent of its exports passing through the waterway connecting the Atlantic Ocean and Pacific Ocean.
The US is carefully watching China's so-called "soft power" in the developing world in the form of foreign aid and investment. Central America is by no means a top priority for Washington, but the US fought proxy wars in the 1980s to prevent the spread of communism. More recently, a Central America-US trade deal has been designed to consolidate the region into a lucrative single market.
China's trade with Latin America grew ten-fold between 2000 and 2007, reaching US$142 billion in 2008, still smaller than the US, but growing at a faster rate, the US Congressional Research Service says.
China's growing prowess prompted Salvadoran President Mauricio Funes to say in November that he would consider ditching Taiwan in future.
Panamanian President Ricardo Marginalia also talked about allying with China during his election campaign.
"We have chosen to have diplomatic relations with Taiwan, but commercial relations with both," Martinelli said in a recently published interview.
Comments will be moderated. Keep comments relevant to the article. Remarks containing abusive and obscene language, personal attacks of any kind or promotion will be removed and the user banned. Final decision will be at the discretion of the Taipei Times.