CROSS-STRAIT TALKS: Activists allege police abuse during Chen visit
Members of the Northern Taiwan Society were outraged by claims that plainclothes police outside the National Palace Museum used intimidating tactics during a visit by Association for Relations Across the Taiwan Strait (ARATS) Chairman Chen Yunlin (陳雲林) on Monday.
Northern Taiwan Society director Lin Kuan-miao (林冠妙) said plainclothes police manhandled her during a scuffle outside the museum, adding that the organization's secretary-general, Lee Chuan-hsin (李川信), heard one admit to being a former gangster.
A large number of police officers wore civilian clothes to maintain a low profile, but several allegedly got involved in scuffles with protesters.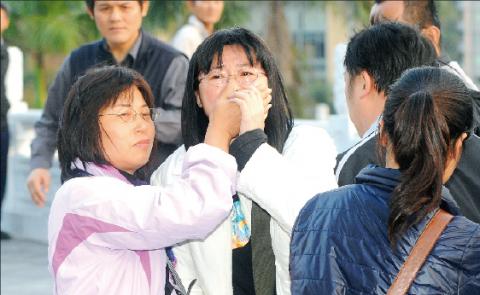 A woman, identified by Taipei Times photojournalist Lu Chun-wei as a plainclothes police officer, covers the mouth of Northern Taiwan Society director Lin Kuan-miao, center, during a visit by Association for Relations Across the Taiwan Strait Chairman Chen Yunlin to the National Palace Museum on Monday.
PHOTO: LU CHUN-WEI, TAIPEI TIMES
BLENDING IN
Lee said he suspected the police wore civilian clothes so observers would believe they were just members of the public.
Lee said one individual he believed to be a plainclothes policeman denied this when questioned.
Lin said after entering the museum at about 4pm, she soon found herself surrounded by five or six plainclothes police. When Chen and his entourage emerged from the museum, Lin shouted at the Chinese envoy to go back to China. At that point, she said, one tall, burly police officer instructed others to silence her.
A policewoman covered Lin's mouth to prevent her from continuing her protest, she said.
AGAINST HER WILL
Lin said this same burly policeman used his weight to shove her, before calling on his colleagues to grab her. The group then manhandled her, dragging her 20m to 30m in the direction of the main gates, she said. They only released her when a volunteer working for the society, who recognized one of the police officers, approached them.
Lin said she had not been holding any banner or poster when the police accosted her, adding that their behavior during the incident, including the physical force used and the attempt to silence her, amounted to restricting a member of the public's right to express their opinion.
EX-MOBSTER
Lee said he had overheard one of the plainclothes police -officers near the main gates of the museum warning two students who had come to call on China to release jailed dissident writer and Nobel Peace Prize winner Liu Xiaobo (劉曉波) that they should leave, as "things are going to get violent in a while."
Lee questioned the police oficer's use of intimidation against the students, asking the man why he was behaving like a gangster. At that point, Lee said, the officer told him it was because he used to be a gangster. Lee said he wasn't sure how to respond upon hearing that.
Comments will be moderated. Keep comments relevant to the article. Remarks containing abusive and obscene language, personal attacks of any kind or promotion will be removed and the user banned. Final decision will be at the discretion of the Taipei Times.