Car ploughs into kids, injures four
A car driver set himself on fire yesterday morning after steering his vehicle, which was loaded with barrels of gasoline, onto the campus of an elementary school in Banciao (板橋), Taipei County, hitting four students before stopping, police said.
Three students were stuck under the vehicle at Puchien Elementary School. As parents and teachers tried to rescue the children by lifting the car, the suspect, 67, -apparently set himself alight. The fire was put out in time to prevent an explosion.
The four students, aged between six and 12, were rushed to Taipei County Hospital's Banciao Branch, while the unconscious suspect, identified only by his surname Wu (吳), was sent to the Far Eastern Memorial Hospital.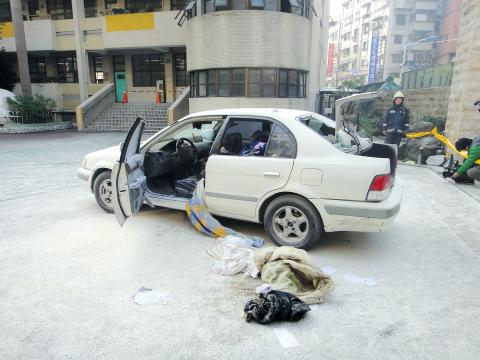 An empty car stands at Puchien Elementary School in Banciao City, Taipei County, yesterday after the driver crashed into the campus and attempted to kill himself after injuring four students.
PHOTO: WU JEN-CHIEH, TAIPEI TIMES
Officials at the hospital said his head, face and hands were badly burned and he remained in critical condition.
Doctors at the Banciao branch of Taipei County Hospital -treating the students said all suffered wounds to the head and chest, none of which were life-threatening.
Police said they discovered four barrels of gasoline in the car, one of which was half-empty. Police believe the driver poured the gasoline on himself before attempting the self-immolation. Police also found NT$100,000 and clothing in the vehicle.
At press time, the police were still investigating his motives.
The man's son told reporters that his father, who is divorced, could have been trying to set his ex-wife's house alight with the crash, as it is close to the school. The son said his father has a history of violence and could also have committed the offense because he was denied visits to see his grandchildren, who attend the school.
At a separate setting, Vice Minister of Education Wu Tsai-shun (吳財順) urged schools across the nation to pay more attention to campus security.
Additional reporting by CNA
Comments will be moderated. Keep comments relevant to the article. Remarks containing abusive and obscene language, personal attacks of any kind or promotion will be removed and the user banned. Final decision will be at the discretion of the Taipei Times.