Flora expo to offer special souvenirs
Special exhibits at the Taipei International Flora Expo that showcase the nation's floriculture prowess, technology and environmental awareness will be commercially available as souvenirs in a couple of weeks, an expo official said on Thursday.
Among the items that will be on offer are paper-thin flexible speakers developed by the Industrial Technology Research Institute (ITRI), which are currently on display at the popular Pavilion of Dreams.
The speakers — basically a sandwich of paper and metal filled with an electro-active polymer that contracts and expands with an audio signal's electric field — are part of a research program started by the ITRI in 2006 and which won the Wall Street Journal's global Technology Innovation Award last year.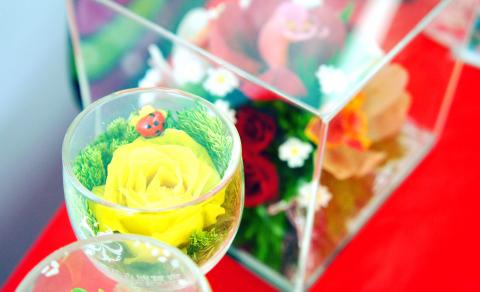 "Eternal flowers" made of real flowers are shown at the Taipei International Flora Expo on Thursday. The flowers, processed using a quick freeze-drying technology to preserve their freshness, are a popular attraction at the expo and will be commercially available in a couple of weeks, officials said.
Photo: CNA
Measuring 22cm by 18cm, the units available for expo visitors as souvenirs are about half the size of those displayed at the Pavilion of Dreams, the company in charge of marketing the product said.
The speakers, which can be connected to an MP3 player or a smartphone, will sell for NT$1,980 a pair.
Another hot attraction at the expo are the "eternal flowers" made of real cut flowers.
Visitors will be able to buy these souvenir bouquets of roses, dendrobium and hydrangea arranged with baby's breath that have been processed using a quick freeze-drying technology to preserve their freshness, the official said.
Popular souvenirs sold at the expo at present include thermo drink bottles, expo passports and bracelets.
According to director of the expo's organizing committee, Ting Hsi-yung (丁錫鏞), 4.31 million admission tickets had been sold as of Thursday, nearly one month after the expo's official opening on Nov. 6.
Total revenues had reached NT$820 million, with about NT$200 million coming from the sale of food, beverages, farm products and souvenirs, Ting said.
The number of souvenir items exceeds 1,500 and is expected to increase to 2,000 in the near future, he added.
The flora expo will run until April 25 next year. It is home to 14 pavilions and more than 800 varieties of orchids, 329 million stems of locally developed plant varieties, from impatiens and bamboo to bonsai trees, as well as award-winning landscape and gardening designs from 22 countries and 26 cities.
Comments will be moderated. Keep comments relevant to the article. Remarks containing abusive and obscene language, personal attacks of any kind or promotion will be removed and the user banned. Final decision will be at the discretion of the Taipei Times.