2010 ELECTIONS: PROFILE: DPP's Greater Tainan candidate following his passion
"All my life, I've always wanted to be a doctor. I never thought I would enter politics" said William Lai (賴清德), the Democratic Progressive Party's (DPP) candidate in the Greater Tainan mayoral election next week.
Life has always been hard for his family, Lai said. His mother wanted him to become a doctor not only so he could save people, but also so he could have a better life.
His father passed away when he was two, leaving his mother to support six children on her own. She never complained of having to work hard to be able to put her children through school.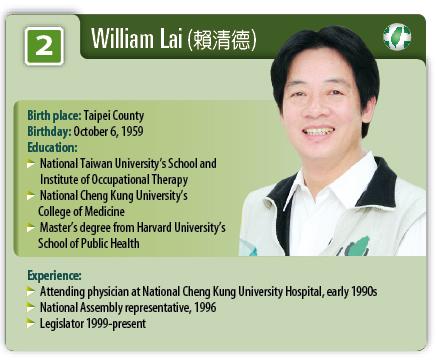 GRAPHIC: TT
Lai said that when he had appendicitis during his junior year of high school, his teacher helped him raise money for the operation. When he gave the money to his mother, she asked him to return it, saying this was a favor he would never be able to return. His mother's strict and principled attitude, he said, left a deep impression on him.
His medical training has given him a cool, reasoning demeanor that is often mistaken for arrogance. The fact is, Lai will often speak up when an injustice occurs.
In 2004, Lai admonished a young person for driving the wrong way down a one-way street, only to be beaten up by a gang, which resulted in damage to his retina in one eye.
His assistants say he is honest and self-possessed and insists on following his ideals — sometimes to the point of obstinacy and without concern for his safety.
When he went to hospital to have his injuries seen to, he was alone, which made everyone think he was a bachelor. In fact, his oldest son is already attending university. Lai's assistants say that after he entered politics, his family took a low profile and does not like to appear in front of the cameras.
Tainan Medical Association president Wang Cheng-kun (王正坤) said that because Lai has always felt that his political career is his personal business, he does not see the need to involve family members.
Tung Che-liang (董哲樑), a -doctor at the Weikang Medical Clinic in Tainan, is a good friend and one of Lai's National Cheng Kung University classmates.
"Lai had good grades in school, but he kept a low profile. He rarely discussed politics, so when he ran for election, many of his friends were very surprised," he said.
Tung sees Lai as a stable and self-disciplined person who doesn't like to show off and said he has almost never heard Lai discuss politics.
Tung said that Lai is a conscientious and confident person who thinks fast and does things at his own speed without being influenced by other people. He also said Lai has a good memory and often serves the public the same way a doctor would his patients.
Lai said that when he was young, he often read works by Lai Ho (賴和) and Chiang Wei-shui (蔣渭水) and listened to speeches by members of the dangwai movement and that this was how the seeds of democracy were planted in his heart.
He said that upon graduation, he dedicated himself to the medical profession, but in 1994, he had the opportunity to work for the Chen Ding-nan's (陳定南) campaign in the provincial governor election. After he joined the democracy movement, he said the passion for a new dream took root and he felt that he wanted to work with something that "would make my blood boil," and so he decided to abandon medicine for politics.
In 1996, he was elected to the National Assembly and that was the beginning of his political career. He has been a legislator for four consecutive terms and in every term he ranked first in the evaluation of legislator performance.
Lai said the politician he admires the most is former DPP chairman Lin Yi-hsiung (林義雄). After Lin joined the democracy movement, he lived through the Kaohsiung Incident and the unsolved murders of two of his daughters and his mother, but he never sought revenge, instead he embraced Taiwan with his love, Lai said, adding that he had great respect for Lin's bravery and tolerance.
When Lai walks the streets to meet voters and solicit their -support, he never takes off his -campaign vest with the words "Protect Taiwan" printed on it, a memory from the 228 Hand-in-Hand Rally in 2004. After six years, it is still the vest he prefers to wear when campaigning and some are starting to think of it as a lucky vest.
Lai said the enthusiasm expressed as the northern and southern parts of Taiwan were connected by people holding hands in that demonstration still touched him to this day. He said he feels honored that he could participate and that he hopes the pro-Taiwan spirit will continue to spread. He said that is the reason why he has not had new campaign vests made specially for this campaign.
Lai said he doesn't have any particular lucky amulet that he always carries with him and that ever since he entered politics, he has relied on his ideals and sincerity when trying to interest voters and win their support during visits to traditional markets or other campaign activities.
On things he cannot be without, he took out a key ring and said it is one thing he must always carry with him, because if he returns home late because of his campaigning, he must be able to let himself in as he doesn't want to wake up his wife and children.
Lai, who was born in Taipei County, said his opponent, Kuo Tien-tsai (郭添財), has made a big deal of the fact that Lai was not born in Tainan. Lai's response came in the form of newspaper inserts headlined "When your heart is in Tainan, then that's where your home is." The insert also said we cannot choose where we are born, but we can choose where we want to fight the fight and realize our ideals.
Lai said that though the respected Master Cheng Yen (證嚴法師) is not from Hualien, his contributions to Hualien and Taiwan as a whole call for great respect, adding that if you show by your actions where your heart is, then that is also where your home is.
Lai said he joined the soon-to-be Greater Tainan election because he wants to build a city to help people fulfill their dreams and make Greater Tainan a place where you can dream, make your life, fall in love, get married and live a leisurely life.
He mentioned a story about a caterpillar that a priest once told him: A caterpillar keeps crawling higher and higher up a tree. Will it fall to its death when it reaches the highest branch in the tree? No, it will make one more jump and transform into a beautiful butterfly.
Lai said that is why he thinks the most important thing in life is to be brave enough to pursue and live one's dreams.
ADDITIONAL REPORTING BY STAFF WRITER
Our series of profiles of the candidates in the Nov. 27 special municipality elections continues tomorrow with independent candidate for Greater Kaohsiung, Yang Chiu-hsing (楊秋興).
Comments will be moderated. Keep comments relevant to the article. Remarks containing abusive and obscene language, personal attacks of any kind or promotion will be removed and the user banned. Final decision will be at the discretion of the Taipei Times.