Juvenile-onset diabetes found in three brothers
OUT OF THE BLUE While the three children have all been diagnosed with the illness, neither their parents nor other members of their family suffer from diabetes
The nation recently saw a rare — and possibly the first ever — case of juvenile-onset diabetes affecting three brothers in one family.
Juvenile-onset diabetes, or Type 1 diabetes, is the most severe form of the illness and tends to occur in childhood, adolescence or early adulthood, before the age of 30, though it can occur at any age.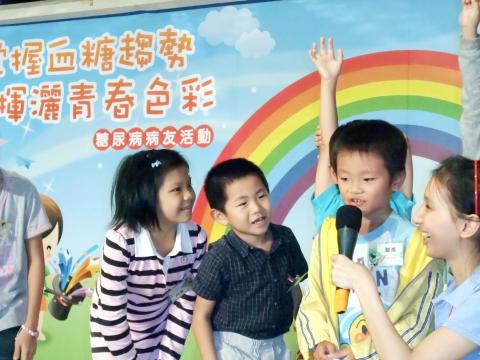 A group of children respond to questions at an event organized by the Taiwan Association of Diabetes Children yesterday.
PHOTO: CHUNG LI-HUA, TAIPEI TIMES
NOT UNCOMMON
Taiwan Association of Diabetes Children chairman Lo Fu-Sung (羅福松) said it was not unusual to see a family with two young children suffering from Type 1 diabetes.
The average age of children infected with this variant of diabetes in Taiwan was seven-and-a-half years old, he said, adding that Type 1 diabetes is less likely to be hereditary.
It was rare to see three brothers in a family affected with the disease, he said.
DIAGNOSIS
The oldest boy was diagnosed with Type 1 diabetes at the age of three or four, while the younger twin brothers were diagnosed at the age of 10 months.
Lo said their parents did not have diabetes nor did their family members have a history of the disease.
Diabetes cannot be detected through pregnancy check-ups, he said. However, Lo also said that a study showed babies suffering from Type 1 diabetes are less -susceptible to viral infection if breastfed for at least six months.
RESEARCH NEEDED
Further studies are needed to confirm whether babies fed formula too early in their infancy or a lack of Vitamin D can lead to Type 1 diabetes, he said.
Lo urged parents to pay close attention to babies' health, particularly such tell-tale symptoms as overdrinking, excessive urination and sudden loss of weight.
If such symptoms are observed, parents are advised to see a doctor immediately, he said. The earlier the diagnosis, the easier it is to control blood sugar and prevent any after effects, he added.
Comments will be moderated. Keep comments relevant to the article. Remarks containing abusive and obscene language, personal attacks of any kind or promotion will be removed and the user banned. Final decision will be at the discretion of the Taipei Times.