Supporters to gather for Chen's birthday
Former President Chen Shui-bian (陳水扁) may be spending his days in a 1.86 ping (6.15m2) jail cell, but it doesn't mean that he will have to spend his 60th birthday alone. His office announced yesterday that supporters from 27 pro--independence groups are expected to gather in front of the Taipei Detention Center in Tucheng (土城) on Sunday afternoon to help him celebrate the occasion.
A few Democratic Progressive Party (DPP) city councilor candidates, part of Chen's "One Side, One Country" Alliance, are also set to demonstrate outside the detention center in support.
It is unlikely that the ex--president will be able to mingle with his supporters, who have pledged to use the occasion to increase pressure on the Supreme Court to strike down his detention one month shy of its two-year anniversary.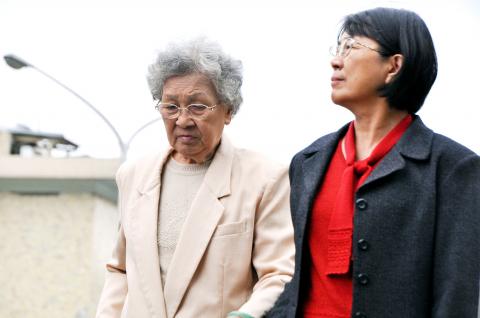 Former president Chen Shui-bian's mother, Chen Lee Shen, left, arrives to visit her son at the Taipei Detention Center in Taipei County's Tucheng Township yesterday, ahead of his birthday on Sunday.
Photo: CNA
"He's going to be locked up in jail, but right outside we will have upwards of 1,000 supporters giving him our best wishes," the ex-president's office manager Chen Sung-shan (陳淞山) said.
The former president's mother, Chen Lee Shen (陳李慎), visited the detention center yesterday. She left crying and questioning how long she would have to continue waiting for her son's release.
"I'm already getting so old … I hope that [he] can leave this place and reunite with his family," the 82-year-old said.
She was accompanied by DPP Legislator Gao Jyh-peng (高志鵬).
The former president also plans to release his latest book, titled The 1.86 Ping Presidential -Office on Saturday. The contents allegedly include new revelations about Taipei's relations with Beijing and Washington during his eight-year term in office.
Chen Shui-bian has been detained in Tucheng since December 2008 on charges of corruption. Today will mark the 677th day of his detention, which prosecutors argue is necessary because the ex-president remains a flight risk.
Adding to his legal troubles, prosecutors have recently accused his office of failing to hand back 58 boxes of allegedly confidential documents that he removed from the Presidential Office in May 2008.
Dozens of investigators raided the former president's current and former offices on Linyi Street and Guanqian Road in Taipei City on Sept. 15.
Prior to the search, the Special Investigation Panel (SIP) said if the boxes are found to contain -classified information, it would mean that Chen Shui-bian breached security protocols and endangered national security.
The information will be revealed this morning after the SIP agreed that some of the 58 boxes would be opened in front of the former president. Hung Kwei-san (洪貴參), part of his legal team, and Chen Sung-shan are both expected to be present.
Chen Shui-bian's office has called the investigation "a clear example of political persecution" and said that prosecutors were likely motivated by the upcoming elections.
The ex-president and his wife have both been found guilty of embezzling state funds, committing forgery and laundering some of the money through Swiss bank accounts by a district court last September.
The sentence is still under appeal.
Comments will be moderated. Keep comments relevant to the article. Remarks containing abusive and obscene language, personal attacks of any kind or promotion will be removed and the user banned. Final decision will be at the discretion of the Taipei Times.