Soldiers to receive additional vacations and bonuses
Minister of National Defense Kao Hua-chu (高華柱) is promising to make up for the vacation days and other leave that were cancelled for thousands of soldiers who worked around the clock on post-typhoon reconstruction work.
A total of 7,888 soldiers were dispatched to southern Taiwan following Typhoon Fanapi over the weekend, helping communities remove garbage and debris, take away fallen trees and clean up damaged buildings.
Kao praised their dedication yesterday, saying the military's efforts were completed with speed and efficiency. He also said the military's role in especially hard-hit areas would likely end today.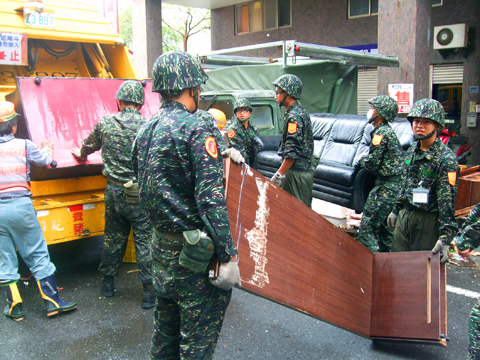 Military personnel help remove flood-damaged furniture from homes in Kaohsiung on Monday. The flooding was caused by Typhoon Fanapi over the weekend.
PHOTO: KE YU-HAO, TAIPEI TIMES
"As a result of them missing their holidays, we will definitely give them back along with an added bonus," Kao said.
According to statistics released by the ministry, soldiers were dispatched a total of 117,921 times in the three days following the heavy flooding in parts of Kaohsiung and Pingtung. The military provided 2,900 meals, opened 12 temporary medical stations and removed about 627,294 tonnes of garbage.
Kao yesterday singled out 200 soldiers who were supposed to return home for the Mid-­Autumn Festival holiday on Wednesday, but instead volunteered to stay with their brigades and complete their reconstruction assignments.
Chen Chun-chie (陳俊杰), a soldier from Pingtung County is expected to be commended by Kao in person today, after the military said he worked non-stop without taking a break, despite living nearby.
Comments will be moderated. Keep comments relevant to the article. Remarks containing abusive and obscene language, personal attacks of any kind or promotion will be removed and the user banned. Final decision will be at the discretion of the Taipei Times.