Su Tseng-chang unveils policy on school safety
Democratic Progressive Party (DPP) Taipei mayoral candidate Su Tseng-chang (蘇貞昌) yesterday unveiled his first policy plan on school safety, promising to work with teachers and local communities to ensure campus safety and reduce bullying, drugs and gangs.
Su proposed nine measures to tackle related problems, including the introduction of a complaint hotline and mailbox, and increasing the provision of on-campus social workers, who will work with teachers to provide immediate assistance and support. He also proposed the involvement of the police, to drive violence, gangs and drugs out of campuses.
"We want to be guardian angels for our children," he said. "We will work with teachers, parents, social workers and the police. We want our children to go to school happily and come home safely. We want them to enjoy studying and have hope for their future so that we can also create hope for our future."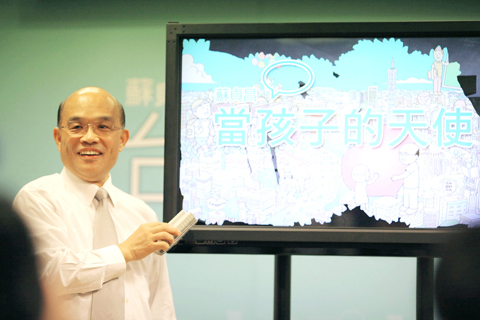 Democratic Progressive Party Taipei mayoral candidate Su Tseng-chang yesterday erases the word "bully" on an electronic board as he proposes an "anti-bully policy" in city schools.
PHOTO: CNA
Questioning the accuracy of statistics released by the Taipei City Police Department and Department of Education, Su said he feared that bullying at school was far more prevalent than indicated.
According to the Department of Education, there were 41 instances of bullying in senior high, 19 in junior high and none in elementary schools. Police statistics put the number at zero overall.
Su said that while he did not want to speculate on who should be held responsible for the disparity, Taipei Mayor Hau Lung-bin (郝龍斌) should take the matter seriously and make every effort to identify and resolve the problem.
"There are no useless soldiers, only incompetent commanders," Su said.
He denied his remarks were targeted at a particular individual, saying he was merely pointing out the problem, and that if nothing was done about it, the situation would only get worse.
"If we admit that there is a problem and we make every effort to fix it, maybe we will not be able to eradicate the problem 100 percent, but we can at least effectively manage it," he said. "It is a serious matter that requires a serious attitude. I only propose policies that I can deliver on. Once I make a promise, I will do my best to deliver results."
Hau said there was "nothing new" about Su's proposal.
Regarding the time and place of a debate with Hau, Su said he would welcome one, but did not expect it to happen until three or four weeks before the election.
Su also urged his opponent to focus on city affairs rather than on national issues such as cross-strait and foreign relations.
Turning to the election in Sinbei City, which pits DPP Chairperson Tsai Ing-wen (蔡英文) against the Chinese Nationalist Party's Eric Chu (朱立倫), Su said he did not believe Chu needed any small donations from the public, because his party was wealthy.
Earlier yesterday, Chu called on the public to donate small amounts of money to help fund his campaign.
Comments will be moderated. Keep comments relevant to the article. Remarks containing abusive and obscene language, personal attacks of any kind or promotion will be removed and the user banned. Final decision will be at the discretion of the Taipei Times.