Breakfast shop food standards questioned
The Consumers' Foundation yesterday said a recent inspection of egg pancakes (danbing, 蛋餅) and turnip cakes (luobogao, 蘿蔔糕) sold at breakfast shops in Taipei showed that some of the samples contained high levels of potentially harmful preservatives.
Traditional breakfast shops in Taiwan typically sell egg pancakes, deep fried dough sticks (youtiao, 油條) and Chinese-style flaky pastry pockets (saobing, 燒餅). Many popular breakfast shops are actually open 24 hours a day.
In May the consumer rights watchdog conducted random checks on 35 samples, including 10 egg pancakes, 10 turnip cakes and 15 soymilk drinks sold at traditional breakfast shops in Taipei City and Taipei County.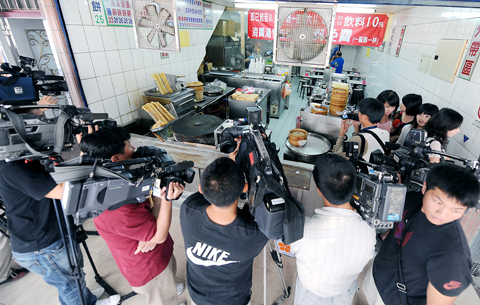 Reporters in Taipei yesterday crowd into one of several breakfast shops where the Consumers' Foundation found turnip cakes containing excessive levels of preservatives. The owner said that the problem lies with the supplier, not the outlet.
PHOTO: CNA
RESULTS
Releasing the results yesterday, the foundation said that one egg pancake sample and five turnip cake samples contained high amounts of sorbic acid, a chemical used as a preservative.
According to food safety regulations, sorbic acid is not permitted in egg pancakes, while turnip cakes are allowed a maximum of 1g per kilogram for preservative purposes, said Lee Cherh-yu (李哲瑜), associate professor of ­food service operations management at the Technology and Science Institute of Northern Taiwan.
"Sorbic acid can be excreted by the human body, but if consumed in high amounts, it can strain the liver and kidneys and be harmful," Lee said.
The foundation also found that one-third of the soymilk inspected contained too much water and did not meet national standards of protein composition.
Referring to the Chinese ­National Standards rules on packaged milk products, the watchdog said soymilk should contain a minimum of 2.6 percent protein — a requirement that five soymilk samples did not meet.
"Many shops add a lot of water to their soymilk. As a result, it tastes bland and is not nutritious enough," foundation chairman Hsieh Tien-jen (謝天仁) said.
Hsieh said consumers who paid between NT$15 and NT$22 for soymilk were not getting their money's worth because the shops were diluting the milk.
Hsieh called on those shops to make the required modifications.
According to the Act Governing Food Sanitation (食品衛生管理法), shops that add illegal amounts of food additives or preservatives face fines of between NT$30,000 and NT$150,000.
Comments will be moderated. Keep comments relevant to the article. Remarks containing abusive and obscene language, personal attacks of any kind or promotion will be removed and the user banned. Final decision will be at the discretion of the Taipei Times.