Wu says media misquoted remarks
NOT SPORTING The premier said his comments about government funding for athletes had been taken out of context by two Chinese-language newspapers
Premier Wu Den-yih (吳敦義) said yesterday he was misquoted by the media over remarks about Taiwanese tennis player Lu Yen-hsun (盧彥勳), who became the first Asian in 15 years to reach the men's quarter-finals at Wimbledon.
Wu was quoted by the Chinese-language Apple Daily and the China Times as saying on Wednesday that "it was just one of those things" that athletes are not funded by the government before they are able to stand on the world stage with great success.
Approached by reporters yesterday, Wu said the papers took his remarks out of context.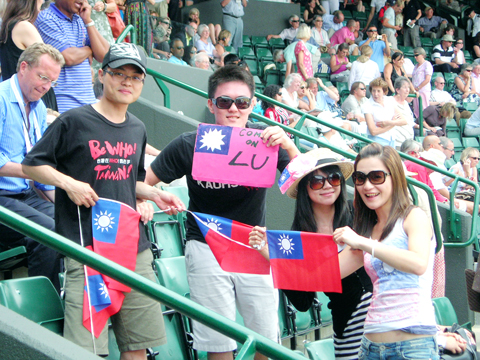 Taiwanese tennis fans hold a Republic of China national flag and a handmade poster at Wimbledon in London on Wednesday. They were there to watch Taiwan's Lu Yen-hsun play third-seed Novak Djokovic of Serbia. Djokovic won the match.
PHOTO: CNA
"I had 40 sentences, but they picked only two sentences. They then said I misspoke," he said.
Wu said what he meant was that it's difficult to help athletes before they become famous.
Citing baseball pitcher Wang Chien-ming (王建民) of the Washington Nationals as an example, Wu said: "Look at Wang Chien-ming, did anyone help him in his early stages?"
"What the government therefore should do is to look for people who have sports talent and cultivate athletes from their childhood. That's what the government has been doing," he said.
On Wednesday, when Wu was asked "What would the government do to offer Lu encouragement," Wu first applauded Lu for his performance and said that a person has to "go through many hardships, endure loneliness and rely on his [or her] own efforts" before making his or her name known.
"It's just the way it has been since ancient times," he said.
Criticism against the government for failing to help a famous athlete only came in "hindsight," he said.
The premier's previous remarks were also criticized by Lu's future mother-in-law, Control Yuan member Chien Lin Whei-jun (錢林慧君), who said that Wu should have spent more time understanding how sports are played.
Meanwhile, Democratic Progressive Party (DPP) lawmakers said that they were infuriated that the government would try to pass the buck on the issue of funding for the country's young athletes.
Legislator Tsai Huang-liang (蔡煌瑯), who served as deputy minister of the Sports Affairs Council under the DPP government, said Wu failed to understand the root of the problem.
"To the distress of Taiwan's talented athletes, Premier Wu has continued to display a misunderstanding of sports," Tsai said. "President Ma Ying-jeou (馬英九) and Wu want to share in Lu's success, but yet they fail to speak responsibly on the issue."
DPP Legislator Yeh Yi-jin (葉宜津) added that Taiwanese state enterprises spent hundreds of millions trying to support Chinese sporting events, but were still unwilling to spend modest sums on training Taiwanese athletes.
"It's no wonder that our sports teams have such a hard time in international competitions. All of this funding has gone to support other countries instead of funding our own athletes," she said.
Comments will be moderated. Keep comments relevant to the article. Remarks containing abusive and obscene language, personal attacks of any kind or promotion will be removed and the user banned. Final decision will be at the discretion of the Taipei Times.