Groups prepare a month-long anti-ECFA campaign
More groups are preparing to rally against an economic cooperation framework agreement (ECFA), vowing to hold a month-long nationwide protest against the proposal, the organizations said yesterday.
Former presidential advisor Koo Kwang-ming (辜寬敏) and representatives of the groups, which include university professor and non-profit organizations, raised concerns yesterday that an ECFA would negatively impact Taiwan's job market and fragile industries.
A number of Democratic Progressive Party (DPP) lawmakers offered support, joining in cries of "declare war" until President Ma Ying-jeou (馬英九) reconsiders his plan to sign the pact.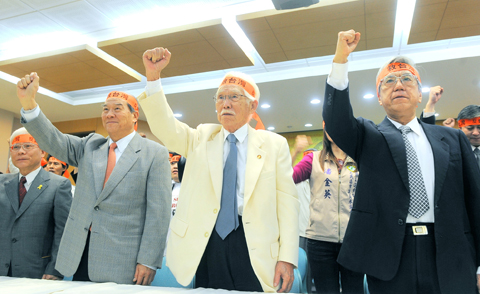 Taiwan Solidarity Union Chairman Huang Kun-huei, left, Taiwan Rescue Action Alliance founder Koo Kwang-ming, center, and Taiwan United Nations Alliance director the Reverend William Lo hold up their fists in a show of unity during a press conference in Taipei yesterday to announce an anti-ECFA initiative, vowing they will do anything they can to obstruct the signing of the agreement.
PHOTO: WANG MIN-WEI, TAIPEI TIMES
Taiwan Rescue Action Alliance chief Lin Yi-cheng (林宜正), one of the Taipei event's organizers, told a press conference yesterday that the Ma government should hold a referendum before signing an ECFA with China in June.
"If there is no ECFA referendum, the people are bound to end up on the streets," he said.
The protest is expected to attract the backing of a number of labor organizations, the organizers said, adding that the campaign would involve protests, conferences and lectures.
A statement later released by the groups called the timing of the campaign "a historic juncture," and added that the referendum was necessary because of concerns over China's political ambitions toward Taiwan.
"We want to show the world that Taiwanese stand together in our opposition to the ECFA and our protection for Taiwan," the statement read.
Koo said that despite Sunday's ECFA debate between Ma and DPP Chairperson Tsai Ing-wen (蔡英文), the government has not eased concerns that the agreement could unfairly benefit large corporations.
Campaign organizers said a lecture on the ECFA would take place tomorrow night at Taichung City's Guang Fu Elementary School. Another conference on the ECFA will take place on Sunday in Kaohsiung City and lectures have also been scheduled for May 7 and May 8 in Taichung County.
Comments will be moderated. Keep comments relevant to the article. Remarks containing abusive and obscene language, personal attacks of any kind or promotion will be removed and the user banned. Final decision will be at the discretion of the Taipei Times.