Taiwan News Quick take
■ DEFENSE
Media watches air drill
Journalists were invited for the first time to a drill at an air base near Hualien that simulated a massive Chinese air attack on major air bases and tested the military's ability to recover quickly from such a shock. The scenario involved the bombing of runways by waves of bombers or missiles from China. "The drill is aimed to test our ability to repair runways as soon as possible so that fighter jets can take off should the air base be attacked," Air Force spokesman Lieutenant General Pan Kung-hsiao (潘恭孝) said. The exercise involved hundreds of troops, some operating heavy engineering equipment such as bulldozers, hydraulic shovels and bomb disposal engines.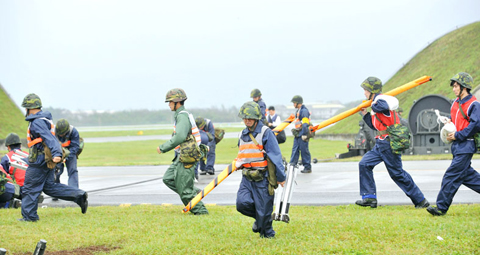 PHOTO: PATRICK LIN, AFP
■ HEALTH
US pork shipment destroyed
A shipment of frozen pork ribs imported from the US was destroyed after it was found to contain the banned substance ractopamine, a drug fed to pigs to make their meat leaner. The Keelung Customs Office said the 1,360kg shipment was brokered through customs on March 29. The importer decided not to return the shipment because it would have cost more to return the pork than it was worth. Democratic Progressive Party legislators and officials from the Bureau of Animal and Plant Health Inspection and Quarantine, Bureau of Standards, Metrology and Inspection and customs, watched as the pork ribs were destroyed in an incinerator. Chen said the frozen pork ribs were found to contain 1.18 parts per billion of ractopamine.
■ HEALTH
Dengue cluster reported
Two more cases of indigenous dengue fever have been reported in Kaohsiung City, bringing to five the number of cases since the start of the dengue season last month, the Centers for Disease Control said on Monday. The latest cases were classified as a cluster infection involving two people who live 15m away from each other in Lingya District (苓雅), Centers for Disease Control Director-General Lin Ting (林頂) said. This year's dengue epidemic pattern is similar to that of 2002 in that it started early, which raises concerns that the outbreak could be as bad as 2002's, when 5,336 indigenous cases were recorded and 21 people died, Lin said.
■ ENERGY
MOEA backs offshore power
The Ministry of Economic Affairs (MOEA) said yesterday it would promote offshore wind power plants and propose incentives in July to encourage local firms to invest in offshore wind power generation. Deputy Minister of Economic Affairs Hwang Jung-chiou (黃重球) said it was not too late for Taiwan to develop offshore wind generation. The Taiwan Strait has very good locations for wind generation, Hwang said. The capacity of a wind power generation station located within 20m of the coast could reach 1,200 megawatts (MW), larger than the capacity of a similar wind plant on land, Hwang said. If the plant is set up around 20m to 50m off the coast, its capacity could increase to 5,000 MW — almost equal to two nuclear power plants, Hwang said. Bureau of Energy Director-General Yeh Hui-chin (葉惠青) said offshore areas near Changhua and Yunlin counties are suitable sites for wind-power generation, and the ministry would propose a plan in July to specify wind farm areas and the capacity needed.
Comments will be moderated. Keep comments relevant to the article. Remarks containing abusive and obscene language, personal attacks of any kind or promotion will be removed and the user banned. Final decision will be at the discretion of the Taipei Times.