Botulism suspected in death in Miaoli
BOTCHED MEAL One woman died and another became seriously ill after eating pickled oysters and dried tofu. The tofu makers said their product was not to blame
Coroners yesterday performed an autopsy on a woman who may have been poisoned by botulism, presumably either from eating dried bean curd or preserved oysters.
Last Saturday, the 45-year-old woman, surnamed Tsai (蔡), and her 72-year-old mother-in-law cooked some noodles and added pickled oysters, a vacuum packed bag of dried tofu and pickled cabbage and pickled cucumbers that they had made themselves.
On Sunday morning however, the mother-in-law and daughter-in-law both started to experience drooping eyelids, had trouble breathing and swallowing and felt dizzy and nauseous accompanied by muscle weakness. They were both taken to a nearby clinic where they did not respond to treatment. On Tuesday, the two were sent to two different hospitals, but Tsai died on Wednesday. The mother-in-law is in Taichung Veterans General Hospital's intensive care unit.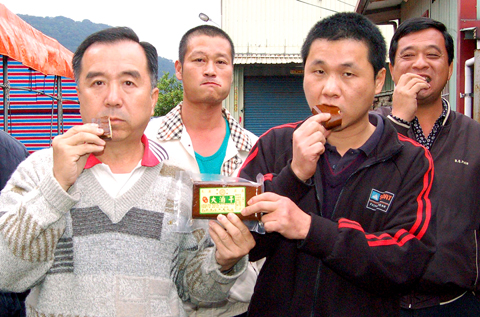 Makers of dried tofu hold up their product and eat it yesterday to show that their products are safe after a woman and her daughter-in-law from Yuanli Township, Miaoli County, were thought to have been poisoned by botulinum toxin in the product earlier this week.
PHOTO: CNA
Samples of the dried bean curd and salted oysters that the two women consumed were retrieved by health authorities, but lab reports are not expected to be available for two weeks.
The two Miaoli women were the third and fourth cases of botulism this year after a mother and daughter in Taoyuan County were diagnosed with botulism early this month, the Centers for Disease Control (CDC) said. The Taoyuan mother and daughter have been treated with botulismus antitoxin.
Lin Ting (林頂), deputy director of the CDC, said yesterday that the CDC's botulismus-antitoxin inventory now totals only around 15 doses.
"We have already placed new orders for the medicine to beef up our supplies," he said.
Lin said the antitoxin costs NT$149,000 per 250cc dose and is distributed to botulism patients free of charge.
Meanwhile, the Taoyuan County Public Health Bureau yesterday ordered two dried bean curd makers to suspend operations for two weeks after their products were found in the Miaoli women's refrigerator.
The Taoyuan health officials have notified major grocery chain stores to pull products from the two companies off shelves.
The companies' owners, however, said they were being mistreated.
"I hope the relevant tests will be completed soon so that my company's name can be cleared," said Tseng Fan-Hsiang (曾繁祥), owner of Cheng Hsiang Foods Co.
Comments will be moderated. Keep comments relevant to the article. Remarks containing abusive and obscene language, personal attacks of any kind or promotion will be removed and the user banned. Final decision will be at the discretion of the Taipei Times.