Taiwanese makes world's thinnest ceramic bowls
A potter is producing razor-thin ceramic bowls, raising a historic art form to a fragile new high and aiming to sell his 0.2mm thick wares in China for a hefty price.
Huang Cheng-nan has made eight of what he says are the world's thinnest bowls, some suitable for a scoop of rice and one big enough to mix punch.
Even the clink of a spoon, however, could shatter the ceramics, the smaller of which sell for NT$200,000.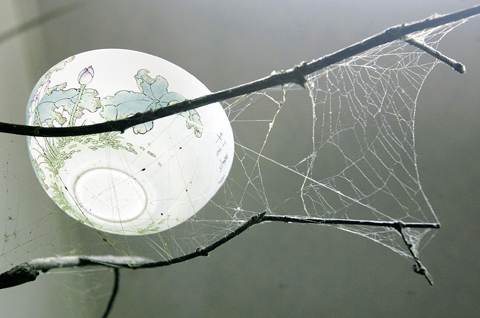 A ceramic bowl, made by ceramic artist Huang Cheng-nan, rests on a cobweb in Taipei county on Thursday. The bowl on display, about 12cm in diameter, 0.15mm thick and weighing 4g, is thinner than China's Jingde ceramic bowl, which is the thinnest bowl in Guinness World Records, Huang said.
PHOTO: PICHI CHUANG, REUTERS
"I've been at this for more than 10 years, but I've only made them successfully since last year," Huang, 55, said in his studio where he broke thousands of pieces ­before cracking the technique. "The difficulty is extreme. A lot of bowls get broken."
Thin bowls are especially prized in Chinese culture. Such wares are often characterized by ornate paintings, support legs and lids with handles.
Huang, a ceramics maker by trade, got started on his bowls after he saw ultra-thin, record-­breaking wares in China and brought some back to Taiwan to study. He says his bowls are more than twice as thin as the thinnest made in China.
"You wouldn't want to eat out of one," Huang said. "That would cause it to break."
Huang imports specialized clay and hires painters to put patterns on the white bowls.
His shop in Yingge (鶯歌), Taipei County, a town known for ceramics production, aims to exhibit at World Expo in Shanghai in May. After that he will set a price for the larger bowls and offer it for sale in China.
Comments will be moderated. Keep comments relevant to the article. Remarks containing abusive and obscene language, personal attacks of any kind or promotion will be removed and the user banned. Final decision will be at the discretion of the Taipei Times.