INTERVIEW: Uighur activist decries terror label
"It was truly disappointing that the Taiwanese government accused me of being a terrorist without any evidence," World Uyghur Congress (WUC) secretary-general Dolkun Isa said in a telephone interview with the Chinese-language Liberty Times (the Taipei Times' sister paper) in Munich, Germany on Saturday.
Minister of the Interior Jiang Yi-huah (江宜樺) last month recommended that the government prohibit exiled Uighur leader Rebiya Kadeer from visiting Taiwan, claiming that the WUC, of which Kadeer is president, "is closely associated with an East Turkestan terrorist organization … and it would be in the best interests of Taiwan and its people to prohibit her from visiting the country."
Jiang also said Isa was on a list of "important international terrorist organizations/individuals promulgated by Interpol."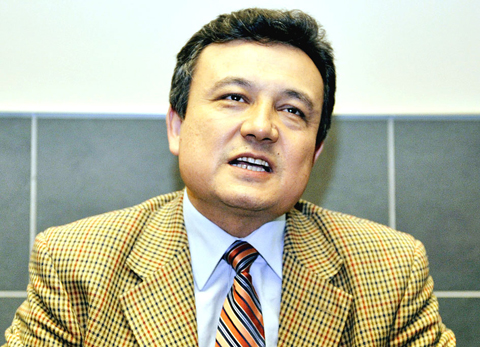 Dolkun Isa, secretary-general of the World Uyghur Congress, speaks during an interview in Tokyo on May 2.
PHOTO: AFP
Responding to government claims that he is a terrorist, Isa said he had sought legal advice in Germany and may take legal action to call on the Taiwanese government to apologize for its accusation.
He said he had checked Interpol's Web site and consulted with his lawyers, but could not find his name on the international police organization's wanted list. He was only blacklisted by the Chinese government, he said.
Isa stressed he had no problems in traveling around the world. Even South Korean authorities, which denied him entry to the country last month, did not accuse him of being a terrorist.
Isa gave a speech in Taiwan in 2006. The government made no effort to prevent his entry. Isa said he was therefore surprised that the present government's move to deny Kadeer entry to the country would also lead to him being branded a "terrorist."
As a totalitarian state, Isa said it was no surprise that China listed all individuals advocating political self-determination as terrorists, but he was taken aback and disappointed that the Taiwanese government had also made allegations against him.
Saying that he advocates peace and had never touched a gun, bullets or bombs in his life, Isa added he had only ever suggested that political confrontation between Uighurs and the Chinese government be settled through peaceful negotiation. Beijing, however, only uses weapons to oppress dissent, he said.
Isa said he has lived in Germany for 14 years, becoming a naturalized citizen in 2006. Noting that both Germany and the US were countries dedicated to fighting terrorism, Isa said if he were a terrorist, Germany would not have granted him citizenship nor allow him to move about freely.
Isa said China had also labeled students peacefully protesting in Tiananmen Square in 1989 and Tibetan spiritual leader the Dalai Lama as terrorists. He said it had never occurred to him that he would be accused of being a terrorist and even more surprising was that democratic Taiwan would follow China's lead.
Isa said the Taiwanese government's accusation against him would only undermine its international profile. He said he had thought the Chinese Nationalist Party (KMT) today was different from the KMT of the 1960s and 1970s following long-term reform. It is clear that the new KMT is the spitting image of the old KMT, he said.
Isa said that if the KMT copied the Chinese Communist Party in oppressing dissenting voices and making false accusations, its long-term efforts to reform over the years would have been futile. Taiwan might turn into another China championing nationalism and ignoring minority voices. Isa said he did not understand why the Taiwanese government was fingering him as a terrorist, noting that even US human rights foundations supported Uighur organizations.
Isa said he had received many telephone calls and e-mails from Taiwanese saying that they felt deeply ashamed of their own country's actions. Some Taiwanese lawyers had even expressed their willingness to take legal action on his behalf, he added.
Isa said he still wanted to visit Taiwan again as its commitment to strive for democracy mirrored his efforts to fight for his own land.
Taiwan, with its hard-earned democracy, has the right to determine its own future, Isa said. China should respect the views of the Taiwanese people and forego its military threats against a democratic state, he said.
Comments will be moderated. Keep comments relevant to the article. Remarks containing abusive and obscene language, personal attacks of any kind or promotion will be removed and the user banned. Final decision will be at the discretion of the Taipei Times.