Taiwan News Quick Take
■ FIRST FAMILY
Ma daughters not PRC-bound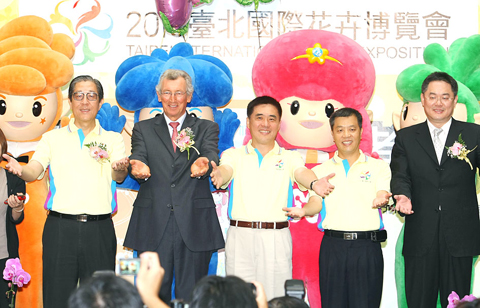 Officials launch advance ticket sales for the Taipei International Flora Expo yesterday.
PHOTO: CNA
Despite their employment by a Chinese fireworks specialist, President Ma Ying-jeou's (馬英九) two daughters will not visit China to handle their company's firework project for the People's Republic of China's 60th anniversary celebrations, the Presidential Office said yesterday. Presidential Office Spokesman Wang Yu-chi (王郁琦) said the projects the president's two daughters — Lesley Ma (馬唯中) and Kelly Ma (馬元中) — are responsible for at the moment had nothing to do with the fireworks display today. "I don't think they will go to China to participate in the work," he said. Lesley Ma returned from the US in April amid speculation that she was in Taiwan to arrange her wedding. It turned out that she came back to prepare a show for her boss, Cai Guoqiang (蔡國強), at the Taipei Fine Arts Museum at the end of this year.
■ POLITICS
Liu to attend conference
President Ma has asked former premier Liu Chao-shiuan (劉兆玄) to attend the upcoming Forum 2000 conference scheduled for Oct. 11 through Oct. 13 in Prague, the Ministry of Foreign Affairs said yesterday. Sources close to Liu said the former premier will focus his discussion on the global financial crisis and will share Taiwan's experience in dealing with the challenge. Forum 2000 was established in 1996 as a joint initiative of former Czech president Vaclav Havel, Japanese philanthropist Yohei Sasakawa and Nobel Peace Prize winner Elie Wiesel. It aims to identify the key issues facing civilization and to explore ways in which to prevent the escalation of conflict. The theme of this year's conference is Democracy and Freedom in a Multipolar World. Some of the topics scheduled to be addressed will include the metamorphosis of democracy after the Cold War and the consequences of the current economic crisis.
■ SOCIETY
Taipei hotline now free
The Taipei City Government announced yesterday that the 1999 Citizen Hotline would be free starting from today. Taipei Mayor Hau Lung-bin (郝龍斌) said providing the service free-of-charge would cost the city government NT$10 million (US$310,000) annually. The 24-hour hotline, launched by the city government in July last year, receives about 150,000 calls a month on average, Taipei City's Research, Development and Evaluation Commission said. Hau said the city government decided to make the service free in order to better serve residents. The mayor made the announcement after the Kaohsiung City Government announced it would provide its citizen hotline for free earlier yesterday. The hotline offers services in Japanese and English and the city said the commission would step up training to provide better services in these languages.
■ SOCIETY
Chen Chu protects old trees
The Kaohsiung City Government said yesterday it would establish regulations to protect the city's old trees. Kaohsiung Mayor Chen Chu (陳菊) told reporters this had become necessary following the Taiwan Railway Administration's (TRA) move to fell four 40-year-old mango trees early last Friday at an old TRA dormitory. "Every old tree is an asset and treasure for Kaohsiung residents," Chen said, calling on state-run enterprises and residents to pay more atttention to tree protection.
■ SOCIETY
Flora Expo tickets on sale
Tickets for the Taipei International Flora Expo will go on sale today, the Taipei City Government said yesterday. The expo is set to open in Taipei on Nov. 6 next year and run through April 25, 2011. One-day passes, which normally cost NT$300, will be sold for NT$200 until March 31 next year. A 12-ticket souvenir set will cost NT$3,300, down from the normal price of NT$3,600. The expo will cover 91.8 hectares and feature 14 exhibition pavilions divided among four major parks. The pavilions will showcase horticultural themes, biotechnology and environmental protection technology. The advance tickets are for sale at ticket.2010taipeiexpo.tw and www.ticket.com.tw, as well as Hi-Life and OK-Mart convenience stores.
■ HEALTH
Bees sting teacher, students
A teacher and three students were hospitalized after being attacked by bees during a field trip to the Air Force Cemetery in Bitan (碧潭), Taipei County, yesterday. The four, from Fu Jen Catholic University in Taipei County, were recovering after being rushed to hospital. Hsi Hsien-te (習賢德), a professor at the university's Department of Journalism and Communication Studies, said a swarm of bees attacked a group of 25 students as they were on their way to the cemetery. Hsi said he and three students were stung on their arms and heads. They at first thought the insects were hornets, but it was later confirmed that the insects were ordinary bees.
Comments will be moderated. Keep comments relevant to the article. Remarks containing abusive and obscene language, personal attacks of any kind or promotion will be removed and the user banned. Final decision will be at the discretion of the Taipei Times.