MORAKOT: THE AFTERMATH: Compensation triggers war of words
HE SAID, SHE SAID KMT Chairman Wu Poh-hsiung's claim that residents of two Pingtung County townships hadn't yet received any money drew counterclaims
Post-typhoon relief efforts and compensation payments triggered a political mud-fight between local and central government officials and between the Chinese Nationalist Party (KMT) and the Democratic Progressive Party (DPP) yesterday.
At issue was the whereabouts of some of the NT$1 billion (US$30.4 million) in disaster relief funds issued by the central government to the Pingtung County Government almost two weeks ago.
Top officials from Linbian Township (林邊) attacked the county government for failing to provide NT$2 million to the township, although some Linbian residents told reporters that they had received NT$30,000 per household two weeks ago.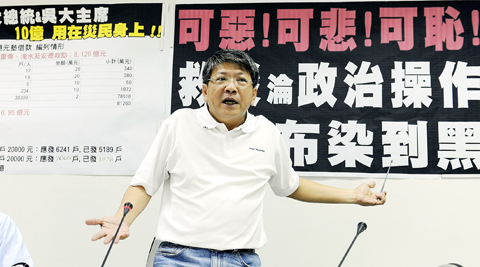 Democratic Progressive Party Legislator Pan Meng-an tells a press conference in Taipei yesterday that it was shameful to turn disaster relief into a political tool as he details Pingtung County's distribution of NT$1 billion in relief funds received from the central government.
PHOTO: GEORGE TSORNG, TAIPEI TIMES
The county government, meanwhile, said it has distributed NT$140 million so far to disaster victims.
The furor erupted after KMT Chairman Wu Poh-hsiung (吳伯雄) issued a press release on Sunday after visiting Linbian and Jiadong Township (佳冬), accusing the Pingtung County Government of delaying distribution of disaster relief funds from the central government.
Flood victims in the two townships told him they "had not received a penny in funding," Wu said, even though the central government had issued a NT$1 billion relief funds almost two weeks ago.
He said the county government was inefficient and "the [delay] was beyond belief."
Linbian Township Mayor Chen Chu-yun (陳朱雲) said she hadn't seen any of the money because she had not filed an official request to the county.
"How was I supposed to issue an official document? We were without electricity the day it happened [the flooding]. In the case of a major natural disaster, shouldn't the procedure for receiving aid be simplified?" Chen said.
A teary Hong Jun-jen (洪俊仁), secretary-general fo Linbian said: "I didn't know that [telling Wu about not receiving funds] would cause such a chain reaction … I apologize to the nation. All I wanted was the NT$2 million for disaster relief. I didn't know that I was supposed to file an official document to receive the funds."
However, Pingtung County Commissioner Tsao Chi-hung (曹啟鴻) said residents who claimed they hadn't seen any money were lying.
"I have distributed about NT$140 million to Linbian residents. It is already in their pockets … When they said that they had not received a penny, it was not the truth," Tsai said.
KMT and DPP lawmakers jumped into the fray at separate press conferences.
KMT caucus whip Lin Yi-shih (林益世) questioned whether Tsao was more concerned about his own political agenda.
"Are you retaining the money so that you can offer favors to people? Don't you know to give the money to the disaster victims immediately?" Lin said.
DPP legislators, however, said the KMT was making false allegations in a bid to distract the public.
"The KMT is merely blurring the focus of people, so that they forget how poorly the government is handling disaster relief," DPP Legislator Huang Wei-cher (黃偉哲) said.
At a separate press conference, DPP spokesman Cheng Wen-tsang (鄭文燦) said that Wu had accused Tsao without knowing all the details.
"Some NT$800 million of the NT$1 billion disaster relief fund has been allocated to victims and family subsidies for deaths, missing, injuries, flood and relocation," Cheng said.
"In addition, as of August 21, 5,189 households in Linbian and 1,828 households in Jiadong had each received NT$20,000 in flood relief funds, which makes up another NT$140 million," he said.
Meanwhile, the Pingtung County Government said it had wired NT$27 million to Linbian Township Office yesterday.
Comments will be moderated. Keep comments relevant to the article. Remarks containing abusive and obscene language, personal attacks of any kind or promotion will be removed and the user banned. Final decision will be at the discretion of the Taipei Times.