Taipei City readies for mudslide threat
SAFE The Department of Economic Development said it had reinforced hillsides around a problematic Maokong Gondola tower, adding residents should not be worried
The Taipei City Government said yesterday it would carefully monitor the situation around the construction site of the Maokong Gondola system in Muzha (木柵) after residents expressed concern about possible mudslides.
The gondola service was suspended after Super Typhoon Jangmi last year triggered mudslides and eroded ground beneath a support pillar. At the time, some communities near the gondola site were also hit by the mudslides, forcing hundreds of households to evacuate.
Taipei Mayor Hau Lung-bin (郝龍斌) said yesterday the Department of Economic Development would repair hillsides around the city to ensure the safety of residents living near the areas.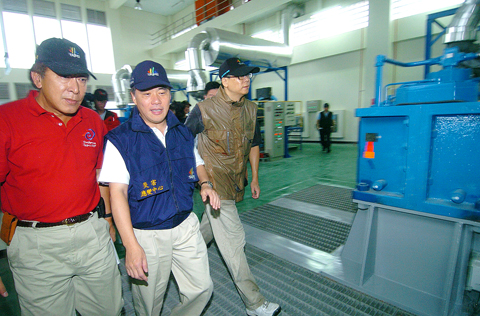 Taipei Mayor Hau Lung-bin, second left, inspects Taipei's Yucheng water pumping station yesterday.
PHOTO: CHIEN JUNG-FONG, TAIPEI TIMES
"All dangerous hillsides are a priority. We will ensure public safety through the repair work of the hillsides," Hau said after inspecting a water pumping station in Nangang (南港).
Commissioner of the department Chen Hsiung-wen (陳雄文) said driven 400 long steel stakes had been driven into the hillside around the gondola system's Tower No. 16 to strengthen the structure, adding that residents should not be worried about mudslides during the typhoon season.
About 10 workers with equipment would be stationed at the hillside in case of an emergency, he said.
Hau attended a cross-department meeting to discuss the typhoon at Taipei City's Emergency Operation Center yesterday.
No major accidents were reported yesterday. Hau said the typhoon would affect the city more severely today, and called on the residents to be cautious.
Hau later inspected the Maokong Gondola's T-16 pillar construction site and the MRT Neihu-Muzha Line's operation center.
The MRT service remained normal yesterday, with trains running at about eight-minute to 15-minute intervals, Taipei Rapid Transit Corporation (TRTC) said.
The TRTC said the MRT Neihu-Muzha Line and above-ground parts of the Danshui Line, Xinbeitou Line and Xiaobitan Line would be suspended if the instantaneous wind speed reached 10m per second or if the average wind speed reached 6m per second. On average, MRT lines will be running trains at about 15-minute intervals while the storm lasts, the TRTC said.
Comments will be moderated. Keep comments relevant to the article. Remarks containing abusive and obscene language, personal attacks of any kind or promotion will be removed and the user banned. Final decision will be at the discretion of the Taipei Times.