FEATURE : Factory worker achieves success as farmer-blogger
Will a housewife buy rice from a farmer who pushes his products online in the kuso style? Probably not.
However, this is not a problem for Hsieh Ming-chien (謝銘鍵), an electronics factory-worker-turned-farmer in Hualien County, who has succeeded in touting the rice he produces on the Internet, while making a name for himself as a farmer-blogger.
Hsieh, 28, the youngest rice farmer in Hualien, has been working the land for the past five years, splitting his time between tending his farm and blogging.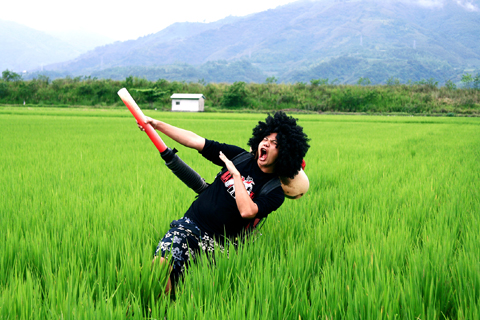 Farmer-blogger Hsieh Ming-chien strikes a kuso — camp or outrageous — pose while spraying a rice field in Hualien County on Sunday.
PHOTO: CNA
The son of a rice farmer, Hsieh headed to Taipei to work after graduating from high school and finishing his military service. He did not save any money working in the metropolis and was eventually ordered home by his father to plow the family land. He was 23 when he became a full-time farmer.
Hsieh did not have a smooth start. His first year's harvest was only one-sixth of the normal yield — just 2,000kg of rice for each hectare of paddy.
That dismal start was a real kick in the pants, so he set out to learn all about the work from his dad and his elderly neighbors. Not until his third year did he finally bring in a successful harvest.
He then decided to take his business a step further by selling his rice online. He started a blog on his farming experiences, chronicling the whole process of rice farming from propagating rice seedlings and planting them, to fertilizing and harvesting.
Believing that building a "corporate image" is important in terms of marketing, Hsieh, who was an art design major at vocational high school, designed the cartoon character Chien Chien and branded his products "Chien Chien's Good Rice."
He has sprinkled his online diary with amusing or self-­deprecating parodies and caricatures in the kuso style, an Internet slang term that is popular in Taiwan and refers to something outrageous, ridiculous or unusual. Kuso literally means "feces" in Japanese.
On his Web site, Hsieh makes fun of himself, reflects local farmers' ideals and plights and describes outrageous issues facing him and fellow Hualien farmers.
Online buyers flocked to him in droves. Chien Chien and his rice have given Hsieh something of a following, earning him fame and a reasonable living at the same time.
His success is in part a result of the fact that the land he works sits in a rift valley with the Central Mountain Range to the west and the Coastal Range to the east, a natural corridor long famed for its fertility and good rice.
However, disaster struck earlier this year when a string of cold spells hit Taiwan after the year's first crop had been planted.
By the time the crops were about to mature in late May, farmers found that the crop had failed to set grain and they lost the entire crop. The unprecedented disaster — the worst calamity in a century — ruined all two hectares of Hsieh's Taigeng No. 4 crop and left 60 percent of another hectare damaged. Fortunately, he said, crops of the other two rice varieties on his other nine hectares were only slightly affected.
Hsieh said the "empty hull" problem was much more detrimental than the onslaught of a typhoon, flooding or any pest.
"My heart went out to my fellow farmers, most of whom are in their 50s and 60s, are their households' only breadwinners, and who had given the majority of their paddy to Taigeng No. 4," he said.
Undaunted, Hsieh said he was planning to increase his crop for the second harvest this year, adding eight hectares to bring a total of 20 hectares under plough to meet demand.
Young as he is, Hsieh has already developed the characteristics of a philanthropic entrepreneur. He frequents an institution for people suffering from mental problems not far from his village, where his wife works as a nurse.
From that institution, he has hired four patients who were able to take up jobs at his seedling development quarters, giving them a sense of worth and allowing Hsieh to make cost savings.
"Farming is stereotyped as backbreaking and profitless, but I'm determined to be a cheerful farmer," Hsieh said. "To me, the best compliment is people saying to me that 'your rice brings happiness.'"
Comments will be moderated. Keep comments relevant to the article. Remarks containing abusive and obscene language, personal attacks of any kind or promotion will be removed and the user banned. Final decision will be at the discretion of the Taipei Times.