Fund urges public to report suspected child abuse
As the summer vacation — a period of time when children and their parents spend more time together — starts today, the Taiwan Fund for Children and Families (TFCF) urged the public to be more active in reporting child abuse.
Figures released by the Ministry of the Interior (MOI) said that reports of child abuse have been rising in recent years.
Last year alone, more than 17,000 cases of abuse were reported, and the number had reached 6,647 as of the end of May.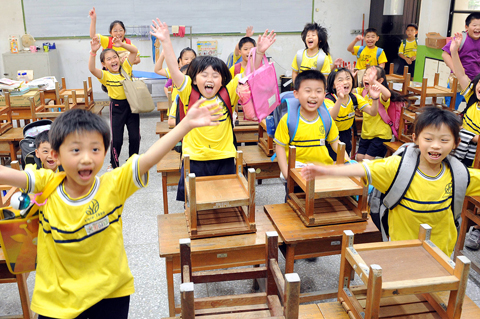 Elementary school students in Taipei cheer as the bell sounds yesterday afternoon, marking the start of the two-month summer vacation.
PHOTO: CNA
There was also a 10.3 percent rise in the number of reported cases in May compared with the same month last year.
"The figures are scary, but it's not the whole picture, because on average only about 30 to 40 percent of cases are reported," TFCF executive director Miguel Wang (王明仁) told a news conference in Taipei yesterday.
He added that he was especially shocked when he saw news reports about a father throwing a baby into boiling water in Changhua and another father beating his daughter to death in Kaohsiung in April, as well as cases last week in which a mother killed her newborn baby with a knife and a 19-year-old girl throwing her newborn baby from her fifth-story window.
"We've been urging parents to remain calm when they are having difficulties or arguments with their children. We also would like to call on the public to pay more attention to children of your neighbors," Wang said. "When you see child abuse or suspect that child abuse may be taking place, please do not hesitate to report it."
To raise awareness about preventing child abuse and to facilitate access to child protection resources, more than 40 businesses in the country have joined the TFCF to create 3,800 locations where information is available describing what constitutes child abuse, how to deal with it and how to report it.
Suspected child abuse can be reported to the TFCF toll free at 0800-078-585 or to the MOI at the women and children's protection hotline at 113.
Comments will be moderated. Keep comments relevant to the article. Remarks containing abusive and obscene language, personal attacks of any kind or promotion will be removed and the user banned. Final decision will be at the discretion of the Taipei Times.