Lu, Chen, Yu in court for funds hearing
Former vice president Annette Lu (呂秀蓮), former Presidential Office secretary-general Mark Chen (陳唐山) and former premier Yu Shyi-kun appeared in court yesterday over their indictments for misuse of their special allowance funds.
Most of the time was spent deliberating on the process used for claiming reimbursements for the funds.
Lu's hearing began at 9:30am.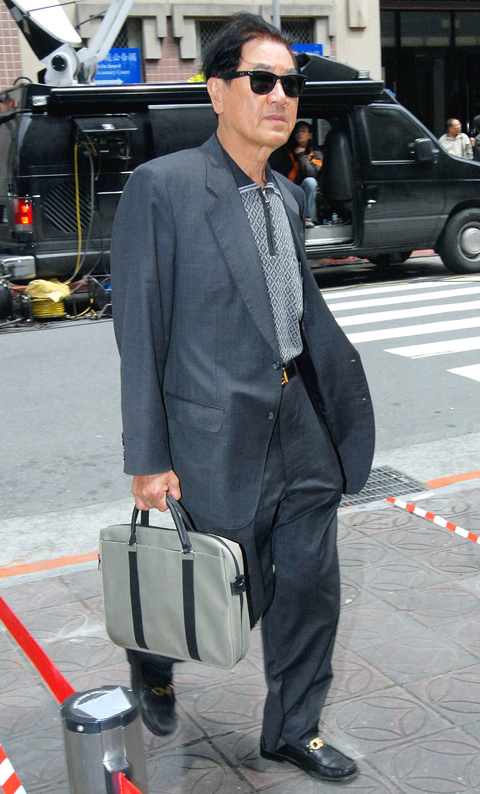 Former foreign minister Mark Chen yesterday appears in Taipei District Court for his special allowance fund case.
PHOTO: CNA
She told judges that former president Chen Shui-bian (陳水扁) would give her NT$150,000 (US$4,430) each month from his "state affairs" fund as a token of his appreciation. According to Ministry of Audit regulations, the presidential "state affairs" fund is issued as long as there are receipts from the recipients, she said.
What the receipts were for was unimportant," she said.
"It does not make sense for prosecutors to indict me," Lu said.
CONTRADICTORY
Lu's lawyer Lin Tien-tsai (林天財) said that explanations provided to the court by the Ministry of Audit and the Presidential Office on how the state affairs fund should be issued were contradictory.
While the ministry told the court that the fund could be issued as long as there were receipts, the Presidential Office said that the receipts used for reimbursement needed to state exactly what the money was used for.
"They are giving different stories, I do not think this can be presented as a part of the arguments," Lin said.
As part of Lu's special allowance came from the presidential state affairs fund, it was inappropriate to proceed with the case until a conclusion has been reached on the legality of Chen Shui-bian's use of that fund, her lawyers said.
The documents seized by prosecutors in 2006 in connection with the state affairs fund have been at the center of a long legal battle. Chen Shui-bian has insisted that they are classified, but the Taipei District Court has maintained it needs them as evidence for Chen and former first lady Wu Shu-jen's (吳淑珍) trial on misuse of the fund.
RECONSIDER
The Taiwan High Court has ordered the district court to reconsider its decision to overrule Chen Shui-bian's authority three times, the last occasion on Feb. 17.
The state affairs case is pending at the District Court.
Lu said that the details of the state affairs fund should be regarded as classified information. She said that the Presidential Office was only now planning to make such information public.
At 11am, judges began to hear Mark Chen's case. He said that he never bothered to find out how he should receive his special allowance fund and he never asked his staff to collect receipts for it.
While his defense council requested time to review the case, judges ended the hearing after just 30 minutes.
In the afternoon session, Yu said that prosecutors had only investigated former pan-green government officials over their special allowances, but had not pursued pan-blue officials.
'UNFAIR'
"We received special allowances just as they do," Yu said. "This is unfair."
Lu, Mark Chen and Yu were indicted by the Supreme Prosecutors' Office's Special Investigation Panel (SIP) on charges of embezzlement on Sept. 21, 2007, for allegedly pocketing their special allowance during their time in office.
Former premiers Frank Hsieh (謝長廷) and Su Tseng-chang (蘇貞昌) were also investigated but were not indicted.
Comments will be moderated. Keep comments relevant to the article. Remarks containing abusive and obscene language, personal attacks of any kind or promotion will be removed and the user banned. Final decision will be at the discretion of the Taipei Times.