Factory workers protest firings
ILLEGAL MOVES? The demonstrators yesterday accused two companies of flouting labor laws governing layoffs. The Council of Labor Affairs said it would investigate
Dozens of laid-off workers from Nitto Technology Co and Wintex Corp, along with labor association representatives, protested outside the Executive Yuan and the Council of Labor Affairs (CLA) yesterday, accusing the companies of illegal labor practices and urging government officials to help the workers.
The protestors said that Nitto had violated the law by forcing workers to sign unfair unpaid leave agreements and canceling shifts in order to lower employees' average salaries and severance pay.
The company has taken advantage of a loophole in the Mass Labor Layoff Protection Law (大量解雇勞工保護法), which penalizes firms that lay off more than 20 workers at a time, they said. The company split the layoffs in three, making no more than 20 workers a day redundant last Monday, Tuesday and Wednesday to avoid penalties, the workers said.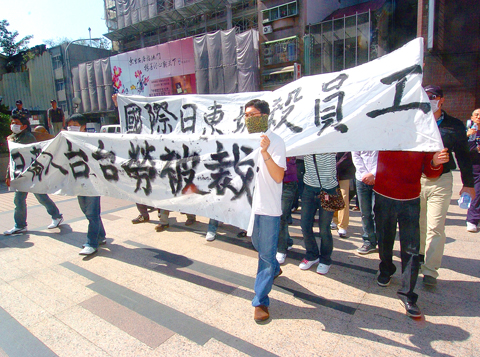 Dozens of laid-off employees from Nitto Technology Co gather in front of the Council of Labor Affairs in Taipei yesterday to protest what they said were the company's illegal unpaid leave practices and to appeal for help from the government.
PHOTO: CNA
The workers held up banners and signs that said "Nitto exploits workers" and "Japanese businesses throw Taiwanese workers out of jobs," while shouting "black-hearted business" and other phrases.
"[Nitto] told us [we had to leave] three days before the Lunar New Year started, and that we would get no year-end bonuses. All of this, we accepted. But we were on unpaid leave almost every day in January," said a former employee surnamed Fang (方), who was in charge of inspection and packaging.
"The [council] has only said it would send a letter to the company to emphasize the regulations. Basically they are on the employer's side," Fang said.
Nitto's Web site says the Japanese firm has two factories in Tainan County processing liquid-crystal-display panels.
Its workers said that the global financial crisis had set off a chain reaction, causing losses at the company, which supplies major brands such as Chi Mei Corp.
Wintex employees were protesting the sacking of about 600 workers in Taoyuan, Taichung and Kaohsiung in December.
Wu Liang-chi (吳良企) demanded the government investigate Windex' claim that its declining business left it no alternative but to lay workers off.
"If the company has experienced a decrease in orders as it said, why did it purchase large-sized industrial machines every month and why did it expand its investments in China and India? Why did it not lower an executive's salary, which would be enough to cover the cost of hiring 25 workers?" Wu said.
"The management of the company hasn't been able to give a clear account of why we were laid off, while it asked other workers to work a night shift because of a continuous flow of orders from HTC Corp, Nokia and iPod."
Executive officer Liu Shiao-wen (劉曉文) received the petition from protestors on behalf of the Executive Yuan with a promise to have the appropriate departments take care of the issue.
Council statistics released last month showed that about 200,000 people were on unpaid leave — a majority of them in the manufacturing industry. The average number of days of unpaid leave taken by workers is four days a month.
More than half of the workers on unpaid leave were from large companies with more than 500 employees.
"The Council of Labor Affairs should have an explanation for the unpaid leave situation, and whether [the company] violated the law on mass layoffs," said Huang Yu-te (黃育德), secretary-general of the Tainan County Confederation of Trade Unions.
"We hope the council can offer a reasonable explanation so that all other workers' rights are protected," he said.
Department of Working Conditions section chief Huang Wei-shen (黃維琛) said the council would investigate the complaints and would penalize the company if it violated labor laws.
Comments will be moderated. Keep comments relevant to the article. Remarks containing abusive and obscene language, personal attacks of any kind or promotion will be removed and the user banned. Final decision will be at the discretion of the Taipei Times.