Court rejects Chen appeal
The Taiwan High Court yesterday rejected an appeal by former president Chen Shui-bian's (陳水扁) lawyer contesting his client's detention as Chen again refused to eat for the ninth day since his incarceration on Nov. 12 over corruption allegations.
Chen's lawyer, Cheng Wen-long (鄭文龍), told reporters after visiting Chen at the Taipei Detention Center in Tucheng (土城), Taipei County, that he might seek a constitutional interpretation from the Council of Grand Justices if the court insists that he obtain Chen's signature for the appeal.
Chen had said he would relinquish his right to appeal after he was detained in protest at what he called "political persecution" and "judicial persecution."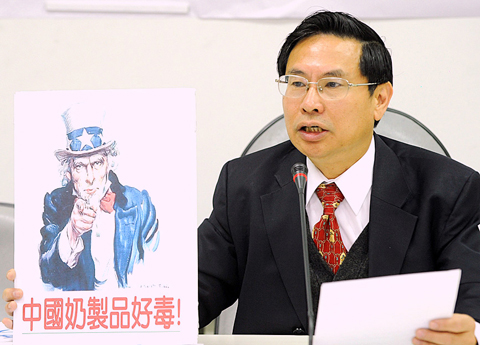 Democratic Progressive Party Legislator Twu Shiing-jer speaks at a press conference regarding adopting a more active approach to food scares.
PHOTO: WANG YI-SUNG, TAIPEI TIMES
The High Court overruled an appeal filed by Cheng on the grounds that Chen did not sign the application.
Chen is suspected of money laundering, taking bribes, forgery and embezzling NT$15 million (US$450,000) during his two terms in office.
Cheng criticized the Special Investigation Panel (SIP) yesterday for detaining Chen without charge, saying that it violated his client's personal liberty. He said SIP should revoke the detention of Chen because it was illegal and unconstitutional and said the incarceration of his client was unnecessary because Chen was unlikely to collude with others.
Cheng said his client was still rejecting intravenous injections and drugs yesterday. Chen's latest test results showed that his blood pressure was high and that he had a fever.
Cheng said Chen has written a 20,000 to 30,000 character memoir during his confinement, adding that Chen would keep writing and hoped to publish it when he is released.
His client also asked him about the stock market and about the consumer vouchers the government was planning to issue to stimulate the economy, Cheng said.
Chen thought tax returns would have been a better way of increasing domestic consumption, Cheng said.
Comments will be moderated. Keep comments relevant to the article. Remarks containing abusive and obscene language, personal attacks of any kind or promotion will be removed and the user banned. Final decision will be at the discretion of the Taipei Times.