CROSS-STRAIT TALKS: Police say 149 officers injured
Bruised and battered from five days of protests that dogged Association for Relations Across the Taiwan Strait Chairman Chen Yunlin (陳雲林) during his visit to Taiwan, the police and protesters yesterday tried to evaluate the number of people injured in the sometimes heated clashes.
The Taipei City Police Department said that 149 officers had been injured while policing the protests.
The department said supervisors were dispatched yesterday to various hospitals to express their sympathy to the injured officers and present them with fruit, drinks and gifts.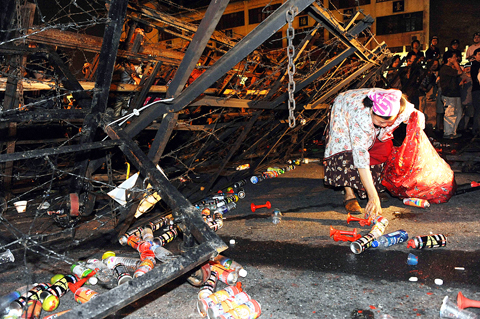 A woman yesterday picks up empty bottles and aerosol horn cans discarded by protesters during the demonstration near the Grand Hotel in Taipei against the visit of Association for Relations Across the Taiwan Strait Chairman Chen Yunlin.
PHOTO: CNA
Democratic Progressive Party (DPP) spokesman Cheng Wen-tsang (鄭文燦) said the party and its local branches were still counting injured protesters, and the number would be released in a few days.
He said many injured protesters were not taken to the hospital by police, so it was believed that any police tally of injuries would be inaccurate.
Police estimated that about 100 protesters were injured.
Meanwhile, the police said yesterday they had arrested 18 alleged ringleaders of the protests.
In related news, the Chinese-language Apple Daily yesterday reported that during the clashes in front of the Grand Formosa Regent Taipei Hotel on Wednesday night, National Police Agency (NPA) Director-General Wang Cho-chun (王卓鈞) was so upset at Songshan Precinct Chief Huang Chia-lu's (黃嘉祿) failure to control the protesters that he relieved Huang of his command.
Huang apparently asked officers not to use too much force, which led to the protest getting out of control. But a high-ranking NPA officer, who wished to remain anonymous, told the Taipei Times yesterday that Huang would not be punished.
"It was not his fault," the officer said. "In a situation like that, it is always our priority to make sure that nobody gets hurt. That is the end goal."
The officer also said that the clashes had come as surprise.
ADDITIONAL REPORTING BY RICH CHANG AND CNA
Comments will be moderated. Keep comments relevant to the article. Remarks containing abusive and obscene language, personal attacks of any kind or promotion will be removed and the user banned. Final decision will be at the discretion of the Taipei Times.