DPP predicts 1 million will take part in protest
HITTING THE STREETS Caucus whip Ker Chien-ming said he would visit former president Chen Shui-bian to discuss his controversial plan to participate in the rally
The Democratic Progressive Party (DPP) predicted yesterday that 1 million people would take part in its "safeguard Taiwan" demonstration to be held next Saturday in Taipei.
DPP legislative caucus whip William Lai (賴清德) said the event had spurred the interest of "more people than any other demonstration held in the past."
For example, Lai said that in his Tainan constituency office alone 200 people had signed up for the rally over the past two days.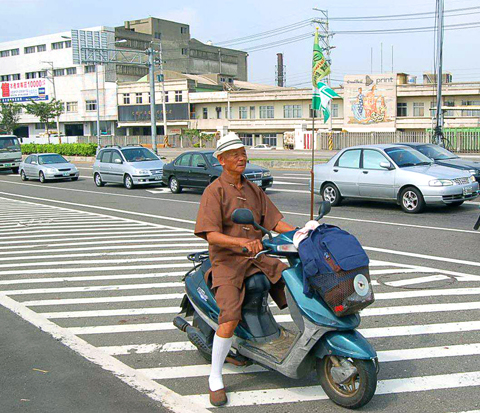 Seventy-nine-year-old Wei Pan-kui sits on his scooter in Taichung County yesterday. Wei is riding from Yunlin County to Taipei to participate in a demonstration organized by the Democratic Progressive Party and the Taiwan Solidarity Union scheduled for next Saturday.
PHOTO: CHEN CHIEN-CHIH, TAIPEI TIMES
Lai said the widespread response reflected deep public resentment against the Chinese Nationalist Party (KMT) administration.
"Everybody wants to take to the streets, regardless of political affiliation or class," he said.
DPP legislative caucus deputy whip Pan Meng-an (潘孟安) said crowds of protesters are expected to converge on Taipei, with at least 100 charter buses set to arrive from Pingtung County alone.
DPP Legislator Chen Ting-fei (陳亭妃) said that the rally, organized in cooperation with the Taiwan Solidarity Union, "will definitely trigger an unprecedented uproar" because the KMT administration's "tilt toward China" has damaged Taiwan's sovereignty.
The main objective of the planned demonstration is to reject the "one China market, the downgrading of Taiwan's sovereignty and an incompetent government," the DPP said.
The DPP has accused President Ma Ying-jeou (馬英九) of sacrificing Taiwan's sovereignty by adopting a "modus vivendi" approach that advocates a"diplomatic truce" with China and introducing a series of cross-strait liberalization measures since his May 20 inauguration. These measures include launching nonstop cross-strait charter flights on weekends, opening Taiwan up to more Chinese tourists, allowing cross-strait currency trading, raising the cap on China-bound investment by local enterprises from 40 percent of their net worth to 60 percent and recognizing Chinese academic degrees.
It is also unsatisfied with what it says is the Ma administration's failure to take a tough stance in dealing with the scare over melamine-tainted food imported from China.
In related news, DPP caucus whip Ker Chien-ming (柯建銘) said yesterday that he would visit former president Chen Shui-bian (陳水扁) on behalf of the party tomorrow to discuss Chen's planned participation at the rally.
Some DPP members have called for Chen to be banned from the rally because of allegations of money laundering.
DPP Chairwoman Tsai Ing-wen (蔡英文) said on Wednesday that anyone who supported the rally's goals was welcome to take part, whether or not they support Chen.
The DPP has proposed that Chen join the rally at Welcome Business Center on Zhongxiao E Road with members of A-bian Family, The Friends of Lee Teng-Hui Association, Northern Taiwan Society, Taiwan Hakka Society and other pro-localization groups.
The DPP proposed that Chen participate in the rally, but not make a speech.
Comments will be moderated. Keep comments relevant to the article. Remarks containing abusive and obscene language, personal attacks of any kind or promotion will be removed and the user banned. Final decision will be at the discretion of the Taipei Times.