Prosecutor investigates Chen family's accounts
The Taipei District Prosecutors Office has started an investigation into suspected money laundering by the former first family, based on information provided by Swiss authorities, a spokesman said yesterday.
Lin Jinn-tsun (林錦村) said yesterday that Chief Prosecutor Ching Chi-jen (慶啟人) was in Switzerland to investigate whether former president Chen Shui-bian (陳水扁) was involved.


"Ching left on Aug. 12 and will return on Aug. 17. She will coordinate with Swiss law enforcement officers while the Supreme Prosecutors' Office Special Investigation Panel [SIP] will continue to investigate whether Chen is involved in money laundering," Lin said.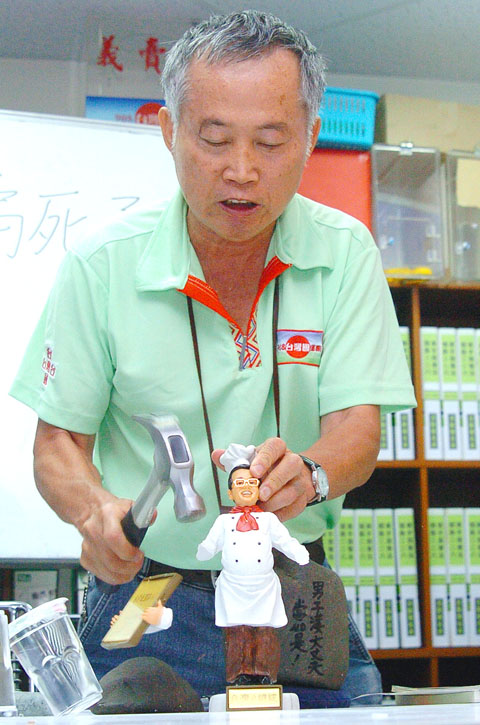 Peter Wang, convener of the ''908 Taiwan Nation Movement,'' breaks a statue of former president Chen Shui-bian at a press conference yesterday. Wang said he was angry and disappointed with Chen for his inaccurate reporting of election campaign funds and for the funds' transfer to overseas bank accounts.
PHOTO: GEORGE TSORNG, TAIPEI TIMES
The spokesman made his remarks when approached for the latest developments in the case following a press conference Chen held on Thursday at which he said that former first lady Wu Shu-jen (吳淑珍) had wired NT$900 million (US$30 million) to three accounts at a Merrill Lynch bank branch in Switzerland.


The three accounts are joint accounts in the name of his daughter-in-law Huang Jui-ching (黃睿靚) and son Chen Chih-chung (陳致中).


Lin said that Taiwan High Court Prosecutors' Office Prosecutor-General Yen Da-ho (顏大和), Taipei District Prosecutors Office Prosecutor-General Lin Ling-yu (林玲玉) and SIP Director and Spokesman Chen Yun-nan (陳雲南) met on Thursday night after the former president's announcement. They decided that the Taipei District Prosecutors' Office would be in charge of helping and coordinating with Swiss prosecutors to investigate Huang and Chen Chih-chung's accounts in Switzerland, while the SIP would be in charge of investigating whether the former president laundered money through the three accounts.


Meanwhile, Lin would not confirm whether prosecutors would summon Huang, Chen Chih-chung and Wu for questioning in the near future. Prosecutors, however, may not be able to talk to Huang and Chen Chih-chung because the SIP confirmed that the couple left for the US last Saturday.


Lin said that Swiss prosecutors had temporarily frozen Huang and Chen Chih-chung's three accounts as part of the investigation. Their priority would be to figure out whether the US$30 million in the accounts was legal. Lin said that Ching would try to retrieve the money from the three accounts.


Talking to reporters yesterday, Control Yuan President Wang Chien-shien said: "I wanted to just kick the TV when I watched [Chen Shui-bian's press conference]."


"These people always say that they love Taiwan, but in fact, they're doing shameful things like this," he said, adding that he was making the comments "as a simple citizen."


Wang then said that Chen could be charged for untruthful disclosure under the Public Functionary Assets Disclosure Law (公職人員財產申報法).


"Chen may be penalized with a maximum fine of NT$300,000 [US$9,550] for each untruthful declaration of property he made," Wang said.


If Chen made false declarations on all seven occasions during his eight-year term as president, he may be fined up to NT$2.1 million, a Control Yuan official said.


Meanwhile, the Central Election Commission (CEC) said yesterday it had decided to set up a task force to investigate the former president's declaration on election funds.


"Former president Chen mentioned [during Thursday's press conference] that he made false declarations about his campaign funds, and we are very concerned about it," CEC secretary-general Teng Tien-yu (鄧天祐) told reporters after the meeting.


"We therefore decided to set up a special task force of nine CEC members to look into whether Chen violated any law under the commission's jurisdiction," he said, adding that the task force would meet for the first time on Wednesday.


Although clauses regulating campaign funds were removed from the Election and Recall Law for Public Servants (公職人員選舉罷免法) last year and from the President and Vice President Election and Recall Law (總統副總統選舉罷免法) earlier this year, "Chen can still be held responsible since his false declarations were made when the clauses were valid," said a CEC official, speaking on condition of anonymity.


Prosecutors questioned Chen Shui-bian from 5pm to 7:30pm last night.
Comments will be moderated. Keep comments relevant to the article. Remarks containing abusive and obscene language, personal attacks of any kind or promotion will be removed and the user banned. Final decision will be at the discretion of the Taipei Times.