Chinese man arrested after swimming to Kinmen
A SWIM IN THE STRAIT The man claimed that he and his entire family were persecuted by Chinese Communists and he hoped that President Ma would grant him asylum
The coast guard yesterday arrested a Chinese man who swam to an outlying island of Taiwan from China in an attempt to seek political asylum, officers said.
The man, identified as Jia Wei (賈偉), 40, told the coast guard he spent eight hours swimming from the Chinese city of Xiamen to Lesser Kinmen (小金門), a tiny islet off Kinmen, they said.


"He said he came from Xinjiang, and swam here with the help of two inflatable buoyancy balloons," a spokesman for the Kinmen Coastal Patrol said.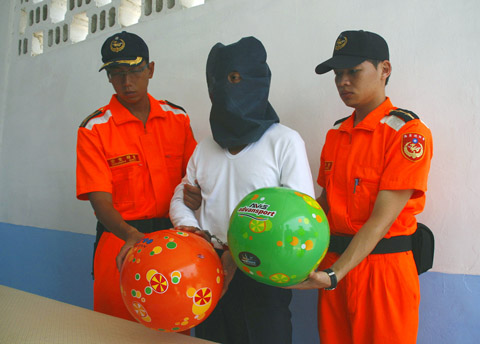 Chinese national Jia Wei, 40, center, stands between two Kinmen Coast Guard officials following his arrest after attempting to swim to Taiwan from China to seek political asylum.
PHOTO: CNA
The coast guard later found that the man was not a Xinjiang native, but a Chinese soldier posted at a military barracks in Xinjiang, Chin said.


Jia told the coast guard he and his entire family were persecuted by the Chinese Communists and he hoped President Ma Ying-jeou (馬英九) would grant his asylum request.


Police and the Mainland Affairs Council said they were checking the identity and background of the man, who is being held by Kinmen prosecutors for investigation.


Troops stationed at Lesser Kinmen caught another Chinese man, Yu Shuirong (余水榮), who also swam to the islet from Xiamen.


The 49-year-old man from Zhejiang Province told coast guards that he planned to swim to Kinmen and travel to Taiwan proper to find a job.


Investigations by the coast guard found no connection between the two cases.


Additional reporting by CNA
Comments will be moderated. Keep comments relevant to the article. Remarks containing abusive and obscene language, personal attacks of any kind or promotion will be removed and the user banned. Final decision will be at the discretion of the Taipei Times.