Group for the disabled calls for action on permit abuse
A Taipei City Councilor and a group of disabled residents criticized the city government yesterday for turning a blind eye to people who use counterfeit disabled parking permits to occupy parking space reserved for the disabled, demanding the city government address the problem and protect the rights of the disabled.
Chinese Nationalist Party (KMT) Taipei City Councilor Lin Yi-hua (林奕華) said an increasing number of drivers were scanning or copying the permits and using them to occupy the reserved parking spaces. The city government has failed to clamp down on the practice, Lin said.
During an on-site inspection at a municipal parking lot in Taipei's Da-an Park yesterday, Chuo Bi-king (卓碧金), director of the Cerebral Palsy Association, said that a growing number of fake parking permits for the disabled had caused a great deal of inconvenience for members of his association.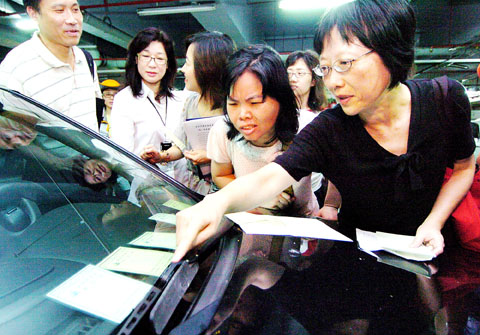 Chinese Nationalist Party (KMT) Taipei City Councilor Lin Yi-hua, third left, points to a disabled parking permit in a car parked in Taipei yesterday.
PHOTO: LIAO CHEN-HUEI, TAIPEI TIMES
"People like us who are in need of a parking space are unable to find any. The city government, however, turns a blind eye to the situation. Who can protect the rights of disabled residents?" she said.
To apply for a parking permit for the disabled, Lin said residents were required to present a disabled ID and driver's license to the city's Social Welfare Department.
The permits, however, were not forgery-proof.
In response, Peng Meng-na (彭夢娜), a department division chief, said the permit had embossments on the surface to make forgery more difficult.
Huang Li-ya (黃莉雅), another division chief at the office, said, however, that it may be difficult to ascertain the legitimacy of a permit by looking at it from outside a vehicle.
Lin said forgery of the parking permits was nothing new and that the city government's continued neglect of disabled people's rights had made the situation worse. She called on the city government to enhance the design of the permits to make them more difficult to fake.
Comments will be moderated. Keep comments relevant to the article. Remarks containing abusive and obscene language, personal attacks of any kind or promotion will be removed and the user banned. Final decision will be at the discretion of the Taipei Times.