Taipei to focus on existing allies: Ou
GOODWILL HUNTING The new minister of foreign affairs said a free-trade agreement with Singapore could serve as a springboard to ASEAN membership
Taiwan will concentrate more on cementing ties with existing allies rather than seek to make new friends, Minister of Foreign Affairs Francisco Ou (歐鴻鍊) said yesterday during his first meeting with the media since his appointment two weeks ago.
Ou, a career diplomat with 44 years of service, said that as a developed country and a global citizen, "Taiwan has the obligation to help developing countries, but not by engaging in checkbook diplomacy."
"This does not mean that in the diplomatic tug-of-war with China we will give up easily, as we refuse to be extorted," he said, addressing the idea of a "diplomatic truce" with Beijing proposed by President Ma Ying-jeou (馬英九).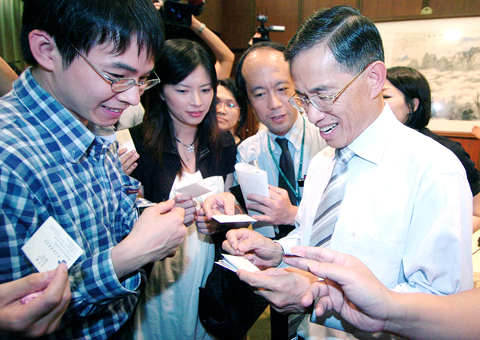 Minister of Foreign Affairs Francisco Ou, right, yesterday receives namecards from the press after a tea meeting at the ministry.
PHOTO: LIAO CHEN-HUEI, TAIPEI TIMES
A truce, Ou said, requires goodwill on both sides and so "if China relaxes its grip on the issue of Taiwanese participation in international organizations, but continues to steal our allies, then it would mean that there is no goodwill on China's part."
MORE ROOM
During a meeting last week with Chinese Nationalist Party Chairman Wu Poh-hsiung (吳伯雄), Chinese President Hu Jintao (胡錦濤) said that China was willing to discuss widening Taiwan's international space, starting with the WHO.
Hu, however, made no mention of Taiwan's admission to the World Bank or the IMF, organizations that Ma has said would be important for Taiwan to join.
PRINCIPLES
Ou said that all diplomatic work must be based on the principles of "dignity, pragmatism, agility and flexibility" and that the government would therefore not rule out using "Chinese Taipei" rather than the country's official designation, the "Republic of China," or "Taiwan" in bidding for membership in international organizations.
In addition to fortifying ties with Taiwan's 23 allies, Ou said the country would also seek to repair and strengthen ties with important states such as the US, Japan and Singapore, with which Taiwan does not have formal diplomatic relations.
The minister said Taiwan's exclusion from ASEAN puts the country at a disadvantage and that improved relations with Singapore — perhaps a free-trade agreement — could help Taiwan gain entry into the regional organization.
In related news, Ou said Taiwan had received Paraguay's formal invitation to attend the country's presidential inauguration in August. The Presidential Office has yet to decide whether Ma will attend.
During his campaign, Paraguayan president-elect Fernando Lugo said that the South American country should follow the global trend by fostering official relations with Beijing.
"If any of our allies want to sever relations with us, we cannot stop them," Ou said.
"But Beijing would have a chance to demonstrate its goodwill by declining the overtures from such countries," he said.
Comments will be moderated. Keep comments relevant to the article. Remarks containing abusive and obscene language, personal attacks of any kind or promotion will be removed and the user banned. Final decision will be at the discretion of the Taipei Times.