Minister apologizes for remarks
NOT ACCEPTED In response to news that Chen Shui-bian is preparing a NT$10 million slander suit, Chen Chao-min said that he would respect the former president's decision
Minister of National Defense Chen Chao-min (陳肇敏) apologized yesterday for comments he made last week suggesting the March 19, 2004 election eve shooting of former president Chen Shui-bian (陳水扁) and former vice president Annette Lu (呂秀蓮) was staged.
"I apologize to the public. I am sorry for the problems caused by my comments on the 319 case," Chen Chao-min told a press conference yesterday morning.
"It is my job as a minister to answer lawmakers' questions," he said. "I should not bring up such an issue as a minister. But it was a lawmaker's question and I was merely answering it as a member of the 319 Shooting Truth Investigation Special Committee [三 一九槍擊事件真相調查特別委員會]. That is all."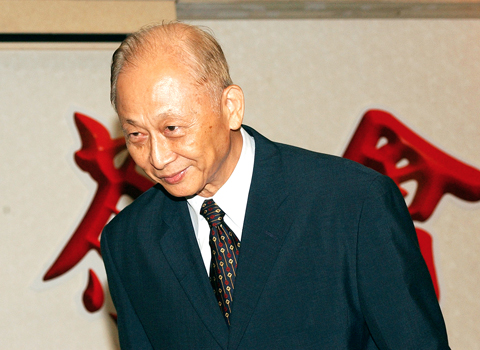 Minister of National Defense Chen Chao-min yesterday bows during a tea meeting with the press at the Armed Forces Officers' Club in Taipei to apologize for comments he made last week about former president Chen Shui-bian.
PHOTO: CNA
In response to news that Chen Shui-bian is preparing to file a slander suit asking for NT$10 million (US$333,333) in damages, Chen Chao-min said that he would respect the former president's decision.
He was also asked if he would attempt to apologize to Chen Shui-bian in the hope that the former president would change his mind.
"I hope that all the talk about this case can be closed and can stop here," Chen Chao-min said. "I am a new minister and there are lots of other things for me to take care of. I need time, especially as I have been away from military affairs for four years."
The minister said that he would not talk about the case anymore.
In addition to his apology, the minister also vowed to perform well in his new position and continue to focus on military affairs.
In response, DPP legislative caucus whip Yeh Yi-ching (葉宜津) told a separate press conference that the minister's apology would not be accepted.
"It would not be a problem if his [Chen Chao-min] comments were appropriate. He needs to learn to take responsibility for what he says," she said. "On behalf of the caucus, we will support Mr. Chen Shui-bian if he decides to continue with the lawsuit."
DPP Legislator Tsai Huang-liang (蔡煌瑯) said that he did not feel that Chen Chao-min's apology was sincere.
"He should come to the legislature and apologize if he really means it," Tsai said.
Tsai said there was only one version of the truth and it is necessary to defend it through justice.
DPP legislative caucus whip William Lai (賴清德), meanwhile, was sympathetic toward Chen Chao-min.
"It is good that he apologized for his mistake, and I commend his bravery," Lai said. "But he needs to be careful because a minister cannot spend all his time apologizing."
Comments will be moderated. Keep comments relevant to the article. Remarks containing abusive and obscene language, personal attacks of any kind or promotion will be removed and the user banned. Final decision will be at the discretion of the Taipei Times.