Orangutan moved to wildlife center after 18 years
OVERWEIGHT Importing orangutans became illegal in 1999, but most orangutans in Taiwan were imported before 1999 or were illegally traded after that year
A 20-year-old female orangutan caged in Taipei County for 18 year has been moved to a wildlife animal center in souther Pingtung County because of the better living environment there, an official at Taipei County's Agriculture Bureau said yesterday.
The center, which belongs to the National Pingtung University of Science and Technology, has advanced research in wildlife animal conservation and an exclusive area for housing wildlife animals.
The orangutan, named Pipi (皮皮), had been living in a cage that was placed beside a temple on a mountain climbing path in Taipei County's Tucheng City (土城市), the official said.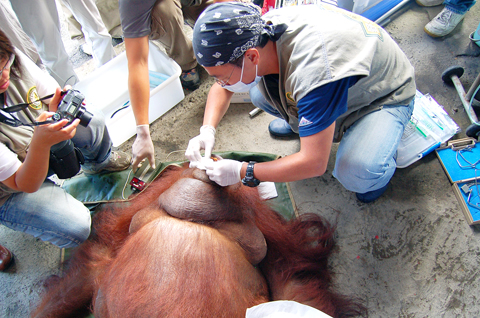 Scientists from National Pingtung University of Science and Technology prepare to deliver Pipi, a pongo orangutan, from Tucheng, Taipei County, to her new home inside the school in Pingtung County yesterday. The owner of the animal had to give her away because she has become overweight.
PHOTO: WU JEN-CHIEH, TAIPEI TIMES
Pipi was raised by owner Lin Cheng-hsiung (林正雄), who applied for legal registration to raise the animal when Pipi was only six.
Raising orangutans is legal in Taiwan as long as the proper registration is made, the official explained.
However, too much feeding from tourists on the path and Pipi's insufficient exercise because of the limited space in the cage have caused the animal to become overweight, the official said.
According to the official, Lin is not able to improve the current environment for Pipi although he had always wanted to do so.
Lin also worried that Pipi will end up living the rest of his life alone in the cage as he could not find her a companion, the official said.
Persuaded by Taipei County's Agriculture Bureau and the wildlife animal housing center, Lin agreed to annul his rights over Pipi in the hope of giving her an ideal place to stay for the rest of her life, the official said.
Chen Chen-chih (陳貞志), a veterinarian who accompanied Pipi all the way to her new house, said Pipi would first be quarantined for three months for health checkups. She will then gradually get to know the center's other six female and more than 10 male orangutans, Chen said.
Chen said the center does not rule out the possibility of Pipi's having babies, adding that Pipi is at a suitable age for giving birth.
Lin said he intends to visit Pipi, whom he described as his "daughter."
Comments will be moderated. Keep comments relevant to the article. Remarks containing abusive and obscene language, personal attacks of any kind or promotion will be removed and the user banned. Final decision will be at the discretion of the Taipei Times.