Hsieh rebuts informant allegations
Democratic Progressive Party (DPP) presidential candidate Frank Hsieh (謝長廷) threatened to take legal action yesterday against those accusing him of being an informant during the Martial Law era.
He repeated his comments from Wednesday that the allegation was part of a conspiracy to smear him.
Producing copies of newspaper clips reporting on his fights with the Ministry of Justice's Investigation Bureau during the Martial Law era, Hsieh denied informing on democracy activists.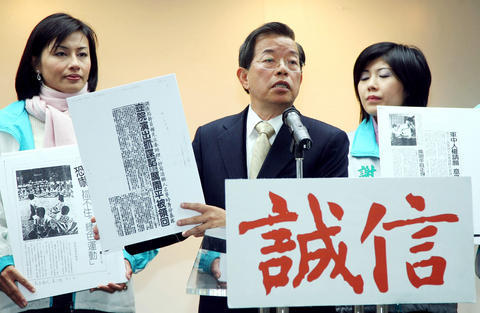 Democratic Progressive Party presidential candidate Frank Hsieh, center, and two of his campaign officials hold up copies of newspaper articles yesterday as he defends himself against claims he spied on democracy activists during the Martial Law era.
PHOTO: CNA
The allegation was a desperate effort to salvage Chinese Nationalist Party (KMT) presidential candidate Ma Ying-jeou's (馬英九) campaign, he said, adding that the allegation "was just the appetizer and the main course is yet to come."
Hsieh said it was his understanding there were 10 people helping Ma with the smear campaign.
These people have wanted to "decide the fate of the country" and have played various roles over the years, he said.
Some of them were retired intelligence officials and knew a lot of inside information, Hsieh said. Their supervisors did not dare expose them because they knew their supervisors' weaknesses, he said.
Hsieh said he had been asked by the bureau to serve as an unpaid consultant for an advisory commission on an anti-graft crackdown. That consulting job was not a secret and newspapers had reported it, he said.
The 12 commission members included former Judicial Yuan vice president Cheng Chung-mo (城仲模), former grand justice Yang Chien-Hua (楊建華) and prominent legal experts such as Huan Tong-shong (黃東熊) and Tsai Tun-ming (蔡墩銘), he said.
Hsieh said he had joined the commission to push for "sunshine laws" and "legalize" the bureau.
He said he had been under constant surveillance both before and after the DPP was founded. Some people tried very hard to twist history, but facts are facts, he said.
Ma spokesman Luo Chih-chiang (羅智強) yesterday dismissed Hsieh's claim that the allegations were a trap set by the pan-blue camp. Luo said Hsieh should not further damage his own reputation because the allegations would be backed by solid evidence.
The KMT legislative caucus again questioned Hsieh's affiliation with bureau during the Martial Law era yesterday.
KMT Legislator Chiu Yi (邱毅) -- who alleged on Wednesday that Hsieh had secretly informed on fellow democracy activists during the 1980s -- said yesterday that the DPP candidate had failed to respond to the caucus' allegation that he had worked as an informant for the bureau between 1981 and 1989.
Chiu said Hsieh had also been evasive when responding to questions on whether he had received a great deal of money from the bureau for "betraying" democracy activists.
Chiu said the copy of an official document signed by former bureau director Wang Kuang-yu (王光宇) listing Hsieh as a "counselor" of the bureau that he showed at a press conference on Wednesday proved Hsieh "had done a lot for the bureau" before he was hired as a counselor in 1992.
"[Bureau] counselors meant high-ranking informants [back then]," Chiu said. "The bureau promoted its informants to consultants after a long period of evaluation."
Meanwhile, Hsieh raised more questions about Ma's green card status yesterday. He said Ma had used the name "Mark Ma" on his green card. He also wanted to know how many members of Ma's family had green cards and exactly when Ma's green card became invalid.
Hsieh has accused Ma of having a green card since 1977, while Ma has said his green card became invalid in 1985. Hsieh said he had produced evidence to back his claim and expected Ma to reciprocate.
Additional reporting by Mo Yan-chih
Comments will be moderated. Keep comments relevant to the article. Remarks containing abusive and obscene language, personal attacks of any kind or promotion will be removed and the user banned. Final decision will be at the discretion of the Taipei Times.