Families hail dentists who cared for prison inmates
SELFLESS This month, Huang Chun-feng and Yang Chung-he spent four days giving free dental care to 25 Taiwanese inmates serving time in a Bangkok prison
Two dentists who provided free medical service to Taiwanese imprisoned at Klongprem Central Prison in Bangkok earlier this month have returned to Taiwan to acclaim from the families of the inmates, a spokesman said yesterday.
At the invitation of Taiwan's representative office in Thailand, Huang Chun-feng (黃淳豐) and Yang Chung-he (楊忠和), both members of the Taiwan Dental Association, provided dental aid to Taiwanese inmates at the prison between Jan. 16 and Jan. 19, said Yu Ting-chen, a spokesman for an association of families of Taiwanese inmates in Thailand, who accompanied the duo on their trip to the Thai capital.
Since 1998, Taiwan's representative office in Thailand has held a free medical clinic each year for Taiwanese inmates in the country. Thai medical and nursing professionals who have a command of the Chinese language are invited to provide treatment and prescribe medicines, the spokesman said.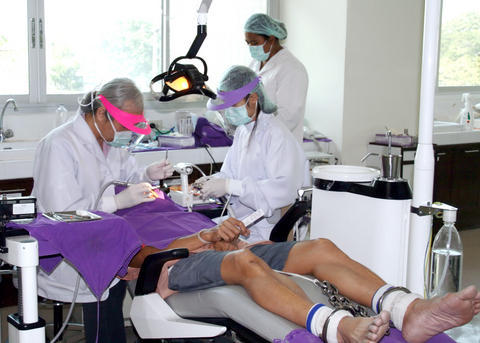 Taiwanese dentists Huang Chun-feng, left, and Yang Chung-he, second left, provide free medical service to a Taiwanese inmate at the Klongprem Central Prison in Bangkok sometime between Jan. 16 and Jan. 19.
PHOTO: CNA
But in light of the great number of prisoners in Thailand, Taiwanese inmates jailed there often receive inadequate dental care. Therefore, the representative office decided this year to invite Huang and Yang to make the trip at the behest of the dental association, the spokesman said.
Huang had previously offered dental treatment to inmates in Taiwan, India, Tibet and other countries, the spokesman said.
Yang, who serves at a health center on Penghu, has twice traveled to India on free medical missions, he said.
The spokesman quoted Huang as saying that the equipment and facilities at the Thai prison are adequate, from a medical perspective, and inmates should be able to receive proper dental care.
However, Huang said, there is great demand for false teeth among Taiwanese prisoners there.
There are 115 Taiwanese inmates jailed in 10 prisons throughout Thailand. Twenty-three male and two female prisoners received dental care, the spokesman said.
He said that as some prisoners had been practically disowned by their families as a result of being in jail for between 20 and 30 years, they had difficulty financing the provision of false teeth.
Most of the inmates have been jailed for drug-related crimes, with some receiving sentences of up to 33 years, he said.
The spokesman praised the two dentists for their dental care as well as for providing mental comfort for lonely inmates who miss their relatives and friends back home.
Comments will be moderated. Keep comments relevant to the article. Remarks containing abusive and obscene language, personal attacks of any kind or promotion will be removed and the user banned. Final decision will be at the discretion of the Taipei Times.