Ma, Siew unveil second phase of economic plan
DIFFERENT THINGS Ma said that there was no need to ask Beijing to remove the missiles targeted at Taiwan before the two nations could talk business
Chinese Nationalist Party (KMT) presidential candidate Ma Ying-jeou (馬英九) yesterday unveiled the second phase of his economic platform, pledging to promote industrial innovation and relax investment regulations while normalizing cross-strait economic relations if elected.
Ma promised to push for the nation's participation in East Asian integration after normalizing cross-strait economic relations with China.
"It should be easy to negotiate with China on the economic relationship, as closer economic ties will benefit both sides. We don't need to ask that Beijing remove its missiles to discuss economic cooperation," Ma said at the Taipei Mayor's Salon yesterday.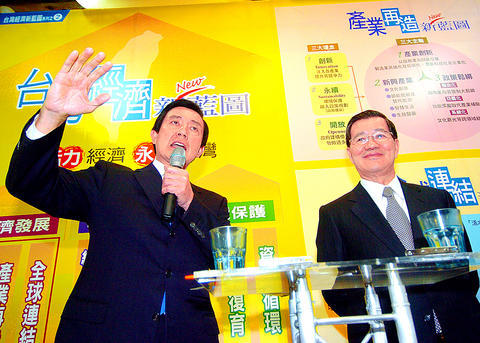 Chinese Nationalist Party (KMT) presidential candidate Ma Ying-jeou explains his second set of economic policies at a press conference in Taipei yesterday.
PHOTO: FANG PIN-CHAO, TAIPEI TIMES
MISSILES
Asking China to remove missiles targeting Taiwan will be necessary only when negotiating with Beijing on a peace agreement or other matters pertaining to national security, he said.
Ma criticized the DPP for turning the nation's economy into "dead water," victimizing low-income families and small businesses while contributing to rising unemployment.
Accompanied by his running mate, Vincent Siew (蕭萬長), Ma pledged to revive the economy and encourage Taiwanese to invest their foreign capital -- evaluated to be worth about NT$4 trillion (US$123 billion) -- back in Taiwan.
OTHER SECTORS
Ma and Siew promised that if elected they would push for the development of tourism as well as the medical and financial industries, which they said would create 50,000 jobs.
While vowing to bolster the economy with the development of the service industry, Ma said he would not ignore environmental protection, promising to reduce greenhouse gas emissions and make environmental sustainability part of his economic policies.
To further connect with international markets, Ma said he would seek to strengthen ties with ASEAN countries, with the goal of joining the augmented version of the regional organization after successfully normalizing economic relations with China.
AVIATION
In addition to opening up cross-strait direct links, Ma promised to establish "twin golden flight circles" involving the airports in Taiwan, Haneda Airport in Tokyo, Gimpo Airport in Seoul and Hongqiao Airport in Shanghai.
Ma also promised to revise the cap on investment in China and open Taiwan to more Chinese tourists.
Siew said that with the opening to Chinese tourists, New Taiwan dollar and yuan exchange services would also be opened across the nation.
Asked to comment on the recent performance of the stock market, Siew said that unlike President Chen Shui-bian (陳水扁) when he was seeking re-election in 2004, he and Ma would not promise to bring the market to more than 10,000 points, adding that improving the overall economy would help stabilize the stock market.
Comments will be moderated. Keep comments relevant to the article. Remarks containing abusive and obscene language, personal attacks of any kind or promotion will be removed and the user banned. Final decision will be at the discretion of the Taipei Times.