Association against death penalty to present film festival
The Taiwan Alliance to End the Death Penalty will present a film festival starting on Friday to call public attention to the issue, officials said yesterday.
The Murder by the Numbers Film Festival, the second of its kind to be held in Taiwan since 2004, will be held to mark the World Day Against the Death Penalty and to underline the violent nature of the death penalty, alliance head Lin Hsin-yi (林欣怡) said.
The festival, scheduled for Friday to Sunday in Taipei and Oct. 19 to Oct. 21 in Kaohsiung, features nine films from Taiwan, Italy, Sweden, France, Denmark, India and the US, Lin said, adding that the alliance hoped the films would help people to better understand the issue.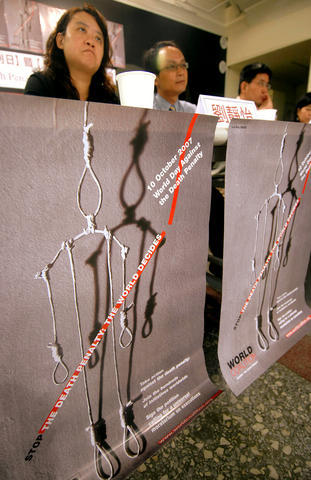 Human-rights activists sit behind posters against the death penalty at a press conference in Taipei yesterday.
PHOTO: SAM YEH, AFP
Liu Ching-yi (劉靜怡), president of the Taiwan Association for Human Rights, said that the issue of a moratorium on the death penalty has been included in the agenda of the 62nd session of the UN General Assembly and that the assembly was expected to adopt a resolution on the issue next month.
Liu said that Taiwan should proactively adopt the human-rights values and practices advocated by the UN if the nation wished to join the world body.
Wu Chih-kuang (吳志光), deputy convener of the alliance, said that although Taiwan remained one of the few countries where the death penalty had not been abolished, no executions have been carried out for the past two years.
This situation could be considered the beginning of the end of the death penalty, he said.
However, since 28 criminals are still on death row, Judicial Reform Foundation chief executive officer Lin Feng-cheng (林峰正) urged President Chen Shui-bian (陳水扁) to officially declare a moratorium on the death penalty and to grant amnesty or commutations to those who have been sentenced to death.
Lin said that Minister of Justice Morley Shih (施茂林) should refuse to sign any execution orders and work to amend legislation to pave the way for the abolition of the death penalty.
Comments will be moderated. Keep comments relevant to the article. Remarks containing abusive and obscene language, personal attacks of any kind or promotion will be removed and the user banned. Final decision will be at the discretion of the Taipei Times.