Chen confident of Hsieh's innocence
NOT ON THE AGENDA The president said he believed the DPP would not change its party charter to ensure Hsieh would not lose his presidential nomination if indicted
President Chen Shui-bian (陳水扁) yesterday expressed his confidence in former premier Frank Hsieh's (謝長廷) innocence, adding that he believed the Democratic Progressive Party (DPP) would not amend its charter to ensure that Hsieh would not lose his presidential nomination if indicted.
A report on Saturday in the Chinese-language United Daily News said that the DPP had launched a series of actions to protect Hsieh, who is allegedly involved in 10 cases under investigation by the Special Investigation Task Force.
The report said that the DPP would abolish a party regulation that requires the suspension of the membership rights of anyone who is indicted.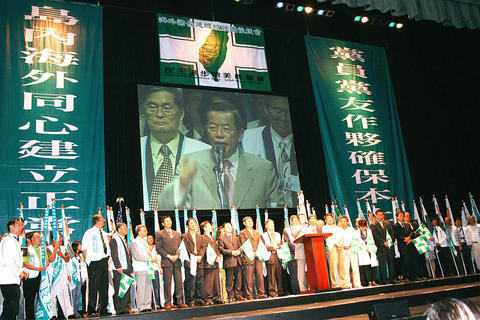 Democratic Progressive Party presidential candidate Frank Hsieh speaks before 3,000 supporters at the founding of an overseas campaign office in Los Angeles, California, on Saturday.
PHOTO: CNA
DPP Chairman Yu Shyi-kun had said on Friday that the DPP would not amend its regulations in the way the Chinese Nationalist Party (KMT) did to protect presidential candidate Ma Ying-jeou's (馬英九) nomination.
Yu was referring to the KMT's amendment of the "black-gold exclusion clause" in its party charter at its party congress on June 24.
The clause, which barred party members indicted for crimes from running for office, now only applies to indicted members who have lost their final court appeal.
The amendment allows Ma, who was indicted in February on charges of corruption, to run for the presidency even if he is found guilty in his first trial.
Chen said yesterday he had 100 percent confidence in Hsieh, adding that the DPP would not amend its charter to protect him because the party opposes "black-gold" politics and believes Hsieh is innocent.
Chen also said the party would support Hsieh if he were indicted and demand justice if the allegations were found to be a plot to harm his reputation.
At a separate setting yesterday, DPP caucus whip Ker Chien-ming (柯建銘) urged party members to stand by Hsieh.
"It is unnecessary to deal with a hypothetical question now," Ker said on whether the party would change its rules concerning measures against indicted members.
Hsieh, wrapping up his 10-day visit in the US, said yesterday the upcoming presidential election was "crucial to determining whether Taiwanese will be able to retain their right to determine their own destiny."
Hsieh made the remarks in a speech to more than 3,000 expatriates at the inaugural ceremony of an umbrella organization in support of his presidential bid in the City of Long Beach, California.
Calling Long Beach a lucky city for him, Hsieh said his participation in campaign rallies held in the city always led to his victory in previous elections, citing as examples the 1998 Kaohsiung mayoral election and his 2002 mayoral re-election bid.
Additional reporting by Flora Wang AND CNA
Comments will be moderated. Keep comments relevant to the article. Remarks containing abusive and obscene language, personal attacks of any kind or promotion will be removed and the user banned. Final decision will be at the discretion of the Taipei Times.