Protesters seek help for tea farmers
LOOKING FOR RELIEF The price farmers can get for their tea has droopped to just NT$10 per 0.6kg. Importers often neglect to label foreign tea as such at local shops
Locally produced tea needs better protection from cheap imports, say farmers and legislators, who claim that lax enforcement of import protocols gives tea from Vietnam, China and Indonesia an unfair advantage over local tea.
"The price farmers can get for their tea has fallen to NT$10 per jin [0.6kg]," Taiwan Solidarity Union Legislator Lai Shin-yuan (賴幸媛) said. "We must provide relief for them immediately."
Despite warnings from police and calls for the meeting to disperse, Lai held a press conference yesterday at the Council of Agriculture.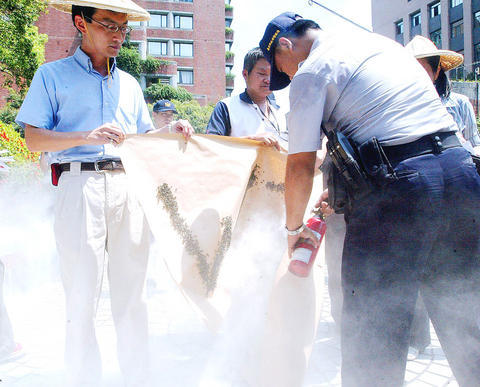 A security guard extinguishes a burning placard outside the Council of Agriculture yesterday. Farmers and legislators claimed that lax enforcement of import protocols gives tea from Vietnam, China and Indonesia an unfair advantage over local tea.
PHOTO: CNA
Lai and farmers' representatives attempted to light a banner with "WTO" spelled out in tea leaves to protest the effects of trade liberalization on the local industry.
The blazing banner was extinguished by police officers.
Lai requested that the meeting of the Agricultural Products Relief Committee scheduled for today come up with an agreement to give farmers relief without the precondition that they cease production.
"It is a common practice to import oolong tea as cheap black or green tea in order to avoid heavier taxes," said Su Wei-shuo (蘇徫碩), chairman of the Taiwan Farmer's Alliance. "This deception allows importers to further undercut Taiwanese tea."
"The [council] tells us that tens of thousands of tonnes of tea is imported to Taiwan every year. How come they are never labeled as imported tea at the shops?" said Su, adding that imported teas are commonly disguised as Taiwanese oolong so that prices can be inflated.
Chen Wen-deh (陳文德), director-general of the council's Department of International Affairs, confirmed that the issue of compensation for tea farmers hit by imports would be discussed at the meeting of the agricultural products relief committee.
"Committee members from different branches of government will hear from tea farmers before making a decision," Chen said.
"The [council] will also be working with custom officials to ensure that in the future officials will know how to differentiate various tea," Chen said.
Comments will be moderated. Keep comments relevant to the article. Remarks containing abusive and obscene language, personal attacks of any kind or promotion will be removed and the user banned. Final decision will be at the discretion of the Taipei Times.